Behind the Iron Curtain Group Tour 2023
Visiting Bucharest Brasov Transnistria Chisinau Bucharest
Price
From From €1,802 pp
---
Date
29th August to 5th September 2023
---
Get a Quote
Behind the Iron Curtain Group Tour 2023
2024 dates to be announced soon! Step back in time... you are about to experience the former USSR by visiting Soviet legacies in Romania & Moldova. Soviet occupation had a profound impact on Moldova & Romania and the effects are still visible - experience this living history lesson before it disappears for good.
Tour Highlights
Witness the legacy of communism
Romania, Moldova & Transnistria
Starts & ends in Bucharest
Exceptional guides
Local experiences
Escorted small group tour
2024 dates to be announced soon!
Day 1 - Arrival in Bucharest
(Tuesday)
Arrival in Bucharest Transfer from the airport to your hotel. If time allows we will visit some important sites in Bucharest. Check in and a short presentation about the history of communism in Romania. Enjoy a welcome dinner with your guide and fellow travellers. Accommodation in central hotel.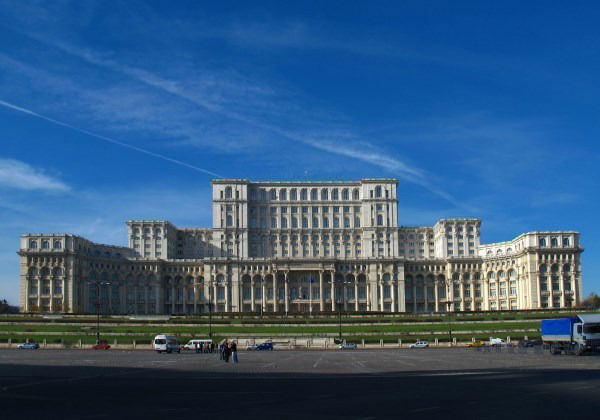 Day 2 - Bucharest - Bran Castle - Brasov
(Wednesday)
Spend the morning exploring Bucharest, including a visit to the Parliament Palace built by order of Ceausescu and Ghencea Cemetery, where Nicolae Ceausescu, his wife Elena and their son Nicu are buried. Before leaving for Brasov, stop in a canteen mall, formally known as a 'cantina', where due to a shortage of food in communist times, people were forced by the authorities to eat in large work style canteens. All the cantinas are now malls, where people freely choose to eat. Lunch is included along the way. Enroute to Brasov, we will stop to visit Bran Castle, which is said to have been Bram Stoker's inspiration for the residence of the vampire count Dracula in his famous novel. Overnight in Brasov.
Day 3 - Brasov to Birlad
(Thursday)
After breakfast, a morning walking tour of Brasov, including a visit to the Black Church and St Nicholas Church. Free time for lunch in Brasov. Departure to Birlad for an overnight stay in a Soviet style hotel. In the evening we will meet and have a simple dinner with a Romanian family, chat with them about their daily life and the issues they face, the communist period they witnessed in the past, etc. Accommodation will be in a 3* Hotel, reminiscent of the communist period.
Day 4 - Birlad - Old Orhei - Tiraspol
(Friday)
Today we leave Romania and enter Moldova, with our first stop the historical site of Old Orhei - a functioning cave monastery and ruins of the old Turkish bath. After a delicious traditional Moldovan lunch in the village, we continue to Transnistria and its capital Tiraspol. Transnistria is a breakaway territory within the internationally recognised borders of Moldova. Although not recognised by any state or international organization, it is de facto an independent state named the Pridnestrovian Moldavian Republic. The country's national coat of arms still includes the traditional hammer and sickle and is home to a load of Lenin Statues that have not been pulled down. Overnight in Tiraspol.
Day 5 - Transnistria - Cricova winery
(Saturday)
Here, in Transnistria, the old USSR is still alive and well. This morning we will watch a communistic-style military parade and stroll the streets of stalls, cafes, shashlik and local beer bars. In the afternoon we drive to the world famous Cricova wine cellars for a tour of their impressive undergound wine city. Return to Chisinau, where we will stay overnight and enjoy a special dinner with wine tasting.
Day 6 - Chisinau - Gagauzia - Galati (Romania)
(Sunday)
This morning we leave Chisinau and drive to the autonomous region of Gagauzia, where we will visit the last surviving 'Kolkhoz' collective state farm and eat lunch in the canteen with the workers. On the way we will visit the Museum of History and Ethnography in Besalma village. We shall cross the Prut River, the border between Romania and Republic of Moldovia, at Cahul-Oncesti. Accommodation and dinner at Galati, an industrial city on the Danube where the jewel of the communist industry was built, the Steel factory! Tonight we will stay in a communist era hotel!
Day 7 - Back to Bucharest
(Monday)
Drive to Bucharest - the 300 km will take around 4/5 hours and we will stop for lunch en route. We will have free time in Bucharest for shopping or some further sightseeing before our special farewell dinner. Overnight in Bucharest.
Day 8 - End of the tour
(Tuesday)
Transfer to airport for flight home or onward flight.
TOUR PRICES
1802 EUR per person = based on two people sharing a double/twin room
2138 EUR per person = staying in a single room
TOUR DATES
29th August to 5th September 2023
2024 coming soon!
TOUR INCLUDES
All services as detailed in the itinerary above
Transport is by air-conditioned minivan.
Our local guide will be with you throughout the itinerary.
TOUR NOTES
Please note flights are NOT included in this package. If you wish to add flights to your booking please contact us, or you are welcome to book them yourself.
If required, we can book additional nights at the start or end of your tour, or arrange an add-on pre/post tour to any of our other destinations.
Thank you and the team at Baltic Holidays for the great programme, as well as for your care and attentiveness
We had a wonderful tour last month and I'd like to thank you and the team at Baltic Holidays for the great programme, as well as for your care and attentiveness. I've posted the following review on TripAdvisor a few moments ago: We have recently returned from a two-week tour of the Baltics, combining the Baltic Capitals Private Tour with stays in Kaunas and Palanga at the end, and we can thoroughly recommend Baltic Holidays to others thinking of visiting the region. The itinerary was well thought through and was ideal for a first holiday in the three countries. The accommodation was well chosen and centrally located, which made it easy to explore each of the cities. The guides were friendly and knowledgeable, and enabled us to discover many great places that we would never have found on our own. We especially enjoyed the wonderful restaurants in each of the cities that we visited. Overall we had a great holiday and would like to thank Phil and the team at Baltic Holidays.
Tailor-made Baltic tour, Mr & Mrs Hagard, August 2018
If anyone reading is unsure about visiting The Baltics, do go! Excellent.
We had a great time! We had never been to any of the three Baltic States previously, and were very pleasantly surprised. All of the hotels we stayed in were very good, towns and cities interesting. Highly recommend the walking tours, good to get an inside knowledge from enthusiastic, knowledgeable guides, Ben in Vilnius was great, he was keen to hear about where we come from also, others in Tallinn, Parnu and Riga were also excellent, ( The Seaplane Harbour in Tallinn, beaches in Parnu,, architecture in Riga / Vilnius were brilliant ) If anyone reading is unsure about visiting The Baltics, do go! Excellent.
Mr & Mrs M, Self-drive Baltic tour, June 2023
A wonderful trip to the Baltic
Back in the UK now after a wonderful trip to the Baltic, which couldn't have gone better. The arrangements were faultless and all the connections and transfers worked perfectly so thank you for all your hard work in arranging everything for us. In summary, we had a great time, learnt an awful lot about the Baltic states (something that wasn't really covered in our UK schooling) and thoroughly enjoyed ourselves. Many thanks to Baltic Holidays for putting this all together and for all the great people we met who looked after us superbly.
Mr & Mrs Muth, Tailor-made Baltic tour, June 2023