A Photographic Journey Through Moldova
Thursday, 7 March 2019
Moldova is one of the least-visited countries in the world, join us on a photographic tour of Moldova showing the highlights that can be seen and experienced on one of our group tours or private tours of Moldova.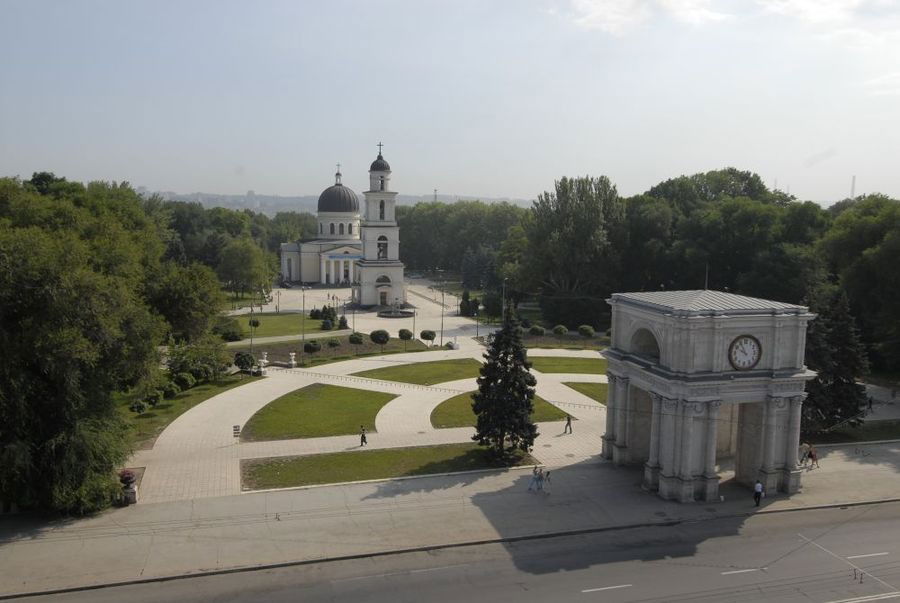 Chisinau
As you wander through the streets of Chisinau, you'll see evidence of a variety of historical periods of influence, all leaving their distinct marks on this bustling capital. Amidst the grand Soviet architecture, there are pockets of culture and quiet green spaces. Churches and parks; flea markets and theatres; street cafes and bars all come to life in the spring with locals making the most of the pleasing weather that runs throughout Summer. Chisinau is forever changing and with every passing year, exciting new developments provide more and more opportunities; but as with everywhere, development means change. Get in quick and embrace the quirky historical legacies and unique features before they disappear.
Browse the flea market.
Admire the architecture.
Enjoy the entertainment.
Wine
Moldova is well known for being a 'land of wine' and boasts some of the biggest wine cellars in the world. Experience this secret subterranean world by driving through the underground wine cellars in a car - it feels like something out of a James Bond movie! Above the surface, vineyards roll over the fertile plains and produce award winning wines that you can sample on tours with local experts. Make the most of this opportunity by choosing a driver-guide for your trip or stay overnight to get the full experience. You'll not only sample the wine, you'll get to soak up the atmosphere and enjoy a 'behind the scenes' look at the workings of a real vineyard. Every year in October, Chisinau holds a flamboyant festival honouring the grape harvest and local wines. Join in the fun and toast Moldova's favourite tipple.
Stay at a wine chateau.
Wander the vineyards.
Tour the wine cellars.
Cave Monasteries
Moldova's sweeping landscape features limestone crags and meandering rivers. In Spring, the countryside comes to life with a splurge of colour. Villages are dotted about the river valleys, more often than not with a beautiful frescoed church nearby; hidden away on hilltops, or tucked beneath cliffs, there are numerous carved cave monasteries that are centuries old. Ancient and intriguing, these caves hold a magical and spiritual quality, some concealing forgotten relics. Explore their hidden corners to get a tiny insight into this extreme way of life.
Transnistria
Within easy reach of Chisinau is Transnistria; a breakaway republic that is not officially recognised - can you resist exploring a country that doesn't even exist?! Get a glimpse of the Soviet past as Tiraspol (the capital city) hosts its celebrations of Victory Day and Independence Day, bringing 'old school' traditions to life in full-scale glory. Join us on a treasure hunt for Lenin statues and visit a collective farm, where you'll meet the locals and find out why they choose to keep this controversial period of history alive. Exploring beyond Tiraspol is an absolute must; you'll experience rural life and countless places of interest to stir your curiosity.
Traditional Crafts
Wooden houses, churches, traditional cooking methods and crafts tie Moldovan culture firmly to the land. Heritage and ethnography remain strong in Moldova, with rural crafts and folklore in abundance. Nature and culture are intrinsically linked and although Chisinau flashes with neon lights and contemporary décor, the traditional heart of Moldovan style is still strong. Colour also plays a vital part in the Moldovan countryside with an array of painted churches and houses brightening up a wintry landscape. In the spring and summer months, breathe in the heady scent of the flower stalls or rummage for hidden treasures in a flea market year-round.
Soroca
Known as the 'Romani capital of Moldova', Soroca is a creative outpost of individuality and unique character full of Roma energy. A place where free spirits have built mansions to showcase their success, resulting in a visual treat for visitors. Look out for the mansions that have been designed to look like famous landmarks such as The Capitol and the Bolshoi Theatre. In the background is the medieval Soroca Fortress which dominates the city and the surrounding modern residential forts and castles. Immerse yourself in this all-consuming cultural experience, unique to this particular region.
Food & Drink
You can be sure that in Moldova your belly will always be full and your lips never dry! Hearty local food is full of fresh vegetables, stews and yes, potatoes do feature quite a lot. Wine is flowing in most establishments and although you can choose a French or Chilean over Moldovan wine, be prepared to pay that bit extra on the bill. Local beer is a winner and perfect for a hot day, sitting in a street café watching the world go by. Once fully relaxed, it's time to follow up with a delicious meal. At least one of your dinners should be in a local restaurant with music or entertainment, purely to experience the warm Moldovan hospitality. Contrast that with a contemporary meal in a fine restaurant and you'll get to see both sides of life - Moldovan fare at its very best!
Churches
Along with a lot of wine, Moldova also has a lot of churches. Their architecture, colours and presence are an integral part of the Moldovan landscape. From sturdy stone structures in the city, to simple wooden ones in the countryside, churches play a significant role in daily life. Be sure to take a look at the interiors, where you will marvel at the frescos and paintings. An Orthodox church stimulates the senses with the smell of incense, visual displays of gold and the sound of a service in full song. But sometimes it is the simple churches that take your breath away. Be it their location or vivid colour, their isolation or dominance in a small village, each one is unique and has its own personality.
Discover Moldova with us
We are specialists in small group tours and tailor-made private tours to Moldova and our local team are exceptional - contact us to discuss your visit to Moldova.
Browse our tours of Moldova
Blog written by Sally & Rachel at Baltic Holidays (Published: 07 March 2019)