Visit to the Heart of Lithuania
Saturday, 31 March 2018
A tour of the Lithuanian parliament ('seimas')
On a cold, dark November day last year, the Baltic Holidays team (#teamBaltic) were honoured to have a private tour of the Lithuanian Parliament ('Seimas' in Lithuanian) in Vilnius. The Seimas stands proud at the end of Gediminas Avenue, the opposite end to the Cathedral and Belltower and quite tucked away from the main old town tourist sights. Those who make the walk along this vibrant and statuesque avenue are usually visiting the Seimas building to see the memorial to the events of January 1991 when Lithuanian independence supporters tried to protect the building against Soviet troops with tragic consequences. A section of the barricades remains in memorial.
As we entered the Lithuanian 'seimas' via security and the cloakroom, the building felt official and quite austere, not helped by the after-hours quiet atmosphere and darkness outside. The subdued lighting and quiet corridors were ours for exploring, switching lights on and off as we passed through different rooms and corridors. Sometimes we felt like intruders. However, we could never have toured the parliament unnoticed because our parliament experience was brought to life by Benas, our wonderful energetic guide full of stories, anecdotes, and welcoming warmth. What an enjoyable and insightful tour followed...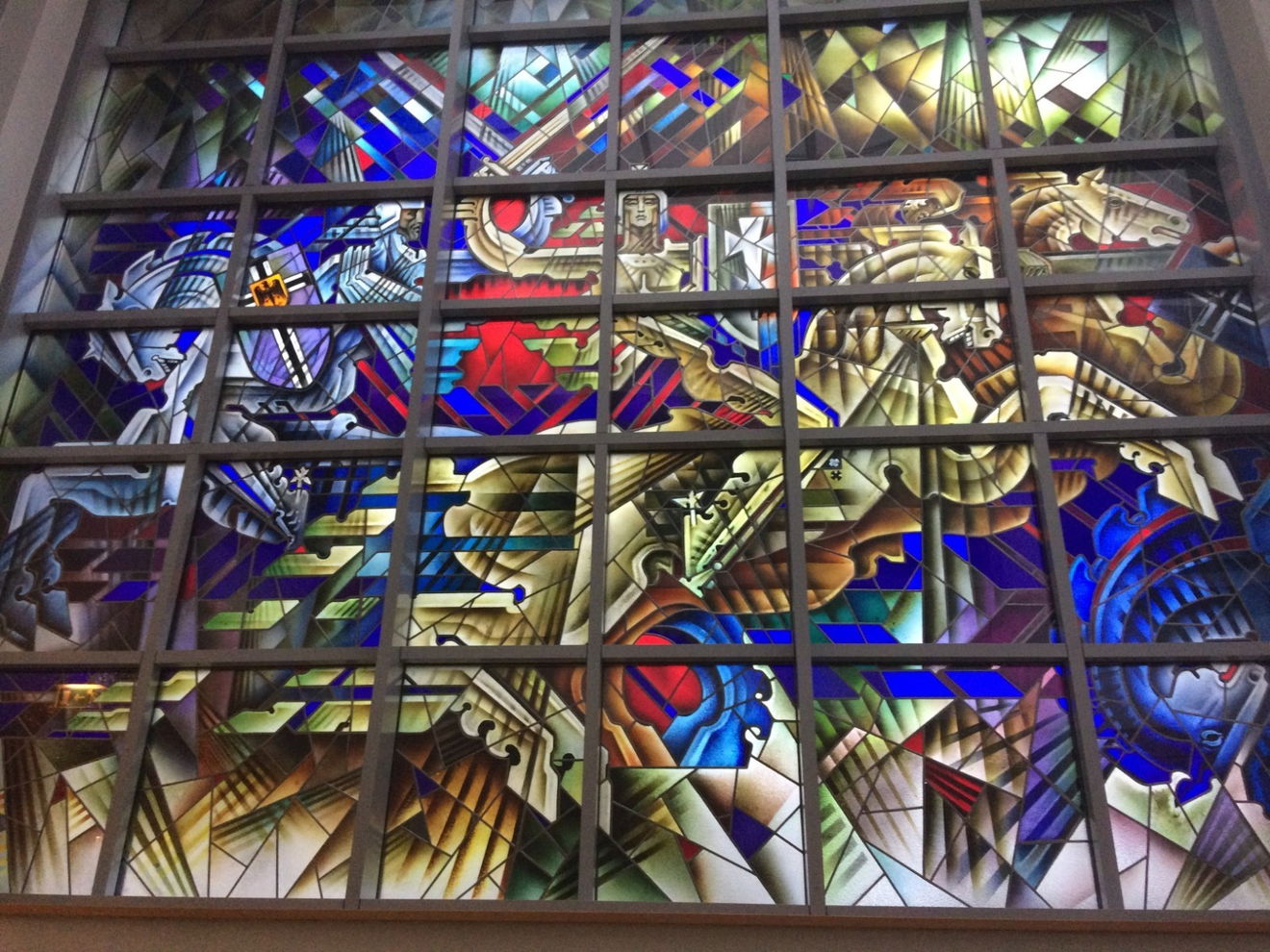 Whilst standing admiring this stained-glass window on a staircase in the parliament building, a young Lithuanian MP stopped to chat. She was in her twenties, one of the youngest MPs in Lithuania, and it highlighted the progress Lithuania has made; standing there on a rather brutal concrete Soviet era staircase talking with a twenty-something female MP who is one of the many driven youths taking Lithuania forwards, and fast.
Speaking of female MPs. 2018 is the centenary year of women getting the vote in the UK. 2018 is also the centenary of Lithuania's independence being restored after the end of WWI in 1918. Here we have a surprise for you. The photo below is of the very first Lithuanian parliament formed after restoration of independence in 1918. The parliament is made up of independent MPs from across Lithuania - and can you see there are two female MPs?! In 1918. Lithuania was ahead of the game in women's rights back in 1918.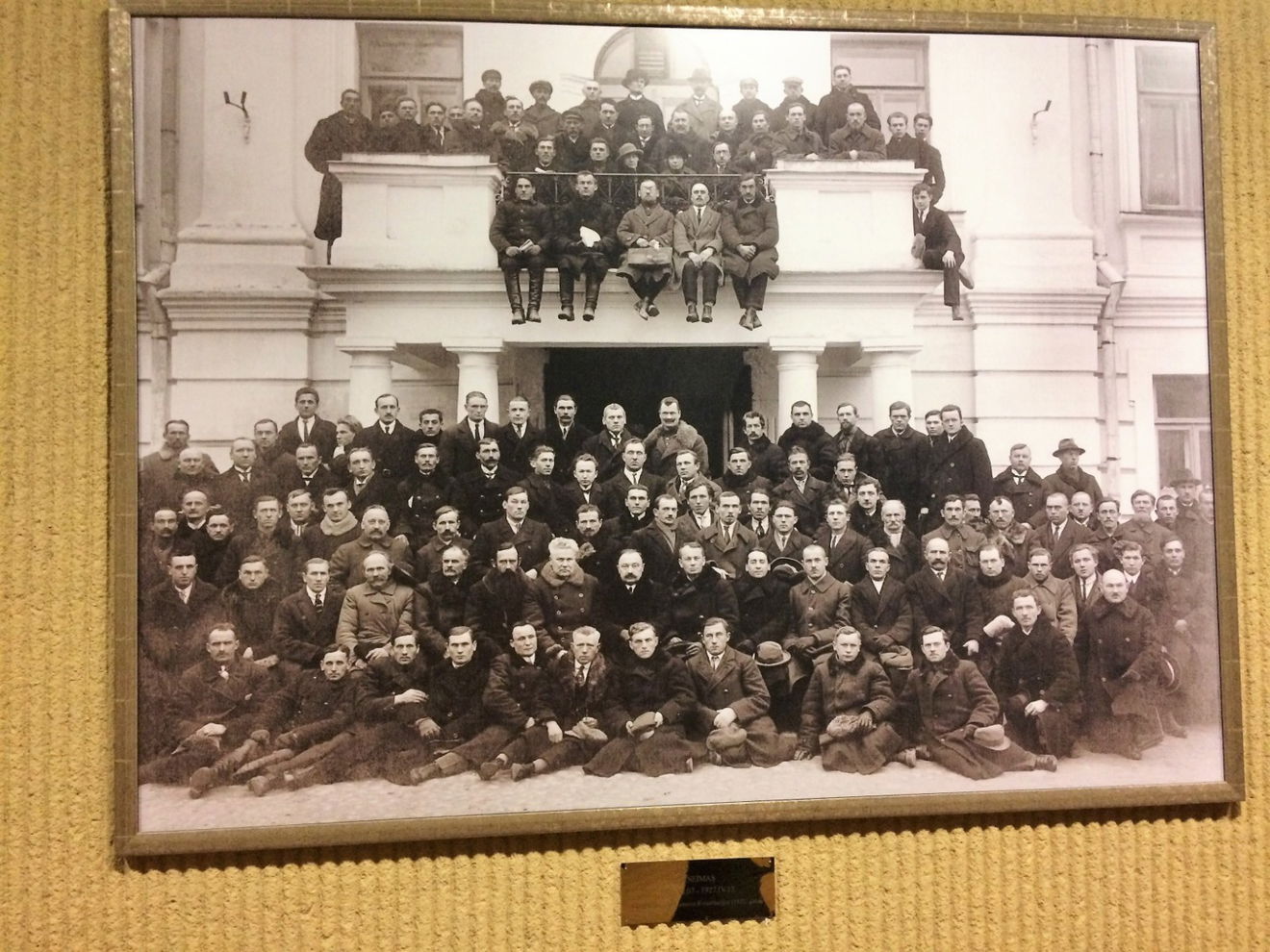 As you pass through the corridors and halls of the Lithuanian parliament, interspersed between the identical closed office doors are pieces of art, many of which are photographs from Lithuania's significant historical events. Take time to look at these, as many are iconic photographs capturing significant moments in Lithuania's history. Two of the most poignant photos are from recent history. The Baltic Way was a human chain that extended from Tallinn in Estonia, through Riga in Latvia to Vilnius in Lithuania (http://www.thebalticway.eu). A tremendous show of unity and peaceful power from the Baltic countries that contributed to the eventual collapse of the Soviet Union and independence for the three Baltic States. There are several photographs depicting the events of January 1991 when, after a turbulent period since Lithuania declared independence from the Soviet Union in March 1990, pro-Soviet protesters and independence supporters clashed outside the parliament, resulting in Moscow sending in troops to seize control of strategic defence, press and government buildings. The result was tragic, with 14 people losing their lives while trying to defend Lithuania. Long live the spirit of the Lithuanian people.
Although many stories from inside the parliament walls are grave and serious, all along our tour was energised and personalised by our guide, Benas. This is not just a history lesson, but history brought to life. You do not need to have Lithuanian connections or be interested in politics or history to make this tour of the parliament worth your while, it is a fascinating experience to get to know a country beyond its museums and galleries, shops, and restaurants. It makes you feel closer to Lithuania. In fact, Vilnius is like that... Vilnius is the person at the party who can chat with anyone, who you want to spend time with and learn more about, Vilnius is the city equivalent of an approachable, friendly, welcoming, open-hearted good friend.
Speaking of good friends, and having described the events of January 1991, we must mention Iceland here. It felt a privilege to stand in front of the original telegram message from Iceland to Lithuania sent on the 4th of February 1991 - the first foreign government to recognise Lithuania as a sovereign independent state after announcing their independence from the Soviet Union. Iceland has had a special place in the hearts of Lithuania ever since.
A new addition to the parliament building is this striking but simple, enhanced sculpture of Gediminas 'columns' or 'pillars'. This is one of the earliest symbols of Lithuania and appeared on historical coats of arms, especially prominent during the time of the Grand Duchy of Lithuania. As part of the 100-year centenary celebrations in 2018, it was decided to cover the columns of Gediminas in friendship bracelets; there are approximately 100,000 braids in Lithuanian flag colours, all made by school children from across Lithuania. A powerful and sentimental symbol of unity from across the regions of Lithuania, here in the heart of the nation.
The friendship bracelets are an emotional contrast to the nearby pane of glass that remains from the January 1991 events; shrapnel smashed the glass window, and it was decided to keep it as a reminder of those tragic and hugely impacting events.
We hope you've enjoyed this insight into the Lithuanian seimas building, its place in recent history, and role in taking Lithuania forward. We highly recommend a tour of the Lithuanian parliament in Vilnius when you are visiting.
One final photo of Sally, Jurga and Linas pretending to be important persons in the Lithuanian parliament!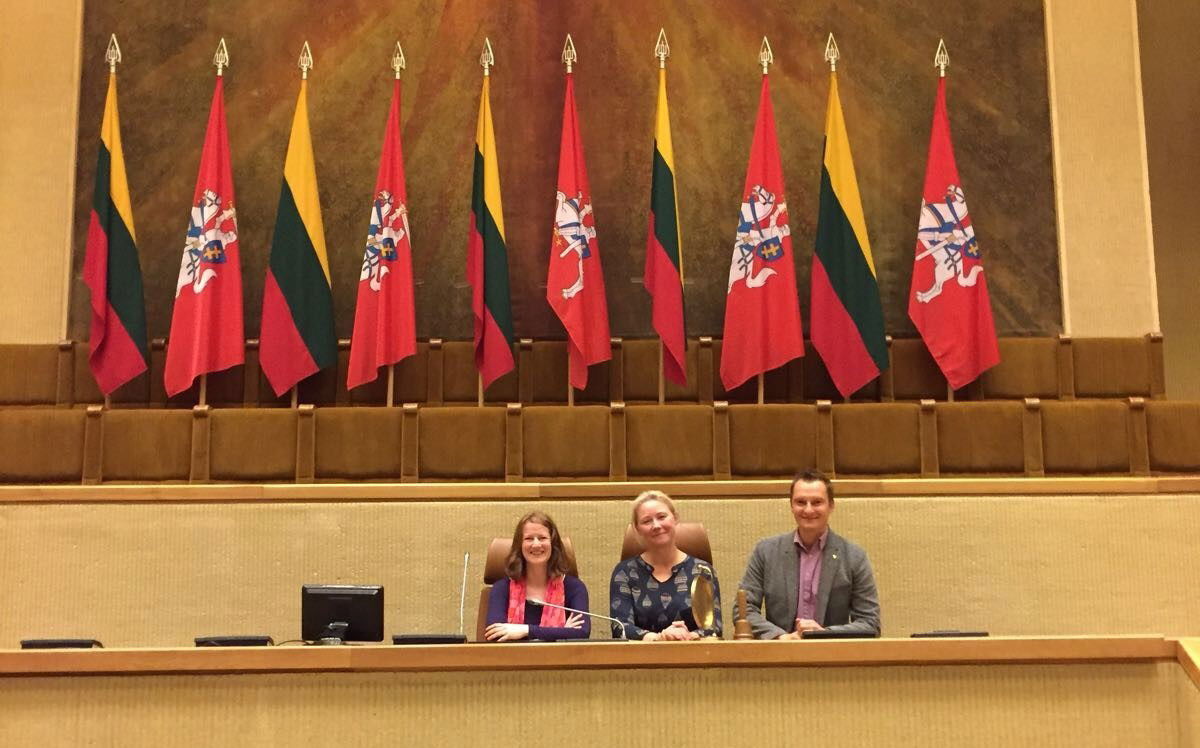 We hope you've enjoyed reading about our tour of the Lithuanian Parliament and would like to visit yourselves!
Sally, Jurga, Linas, Phil, Sarah & Rachel
Lithuania Tours
We are Lithuania experts - chat with us about your plans and we will tailor an itinerary to suit you.
Browse our Lithuania Tours
(Published: 31 March 2018)