Baltic Capitals Self-Drive Tour
Visiting Vilnius Riga Tallinn
Baltic Capitals Self-Drive Tour
For those who like to self-drive, enjoy the freedom of the road and sightsee along the way - this is perfect. We will tailor an itinerary for you that is much more than going from A to B, you will benefit from our local contacts and knowledge to discover those hidden gems... all with our local support throughout your tour.
Tour Highlights
Tallinn, Riga & Vilnius
Self-drive between the cities
Old Town walking tours
Can start in Tallinn, Riga or Vilnius to suit your flights
Advice & support designing and during your trip
Get creative with your itinerary!
Day 1 - Arrival to Vilnius
Transfer from Vilnius airport to your hotel
Our driver will meet you in the arrivals hall and drive you to your hotel (they will be holding a sign with your name on it). It is a short drive to your hotel in Vilnius old town and you will soon be strolling the cobbled streets of old town or relaxing in a cafe or restaurant. Welcome to Vilnius!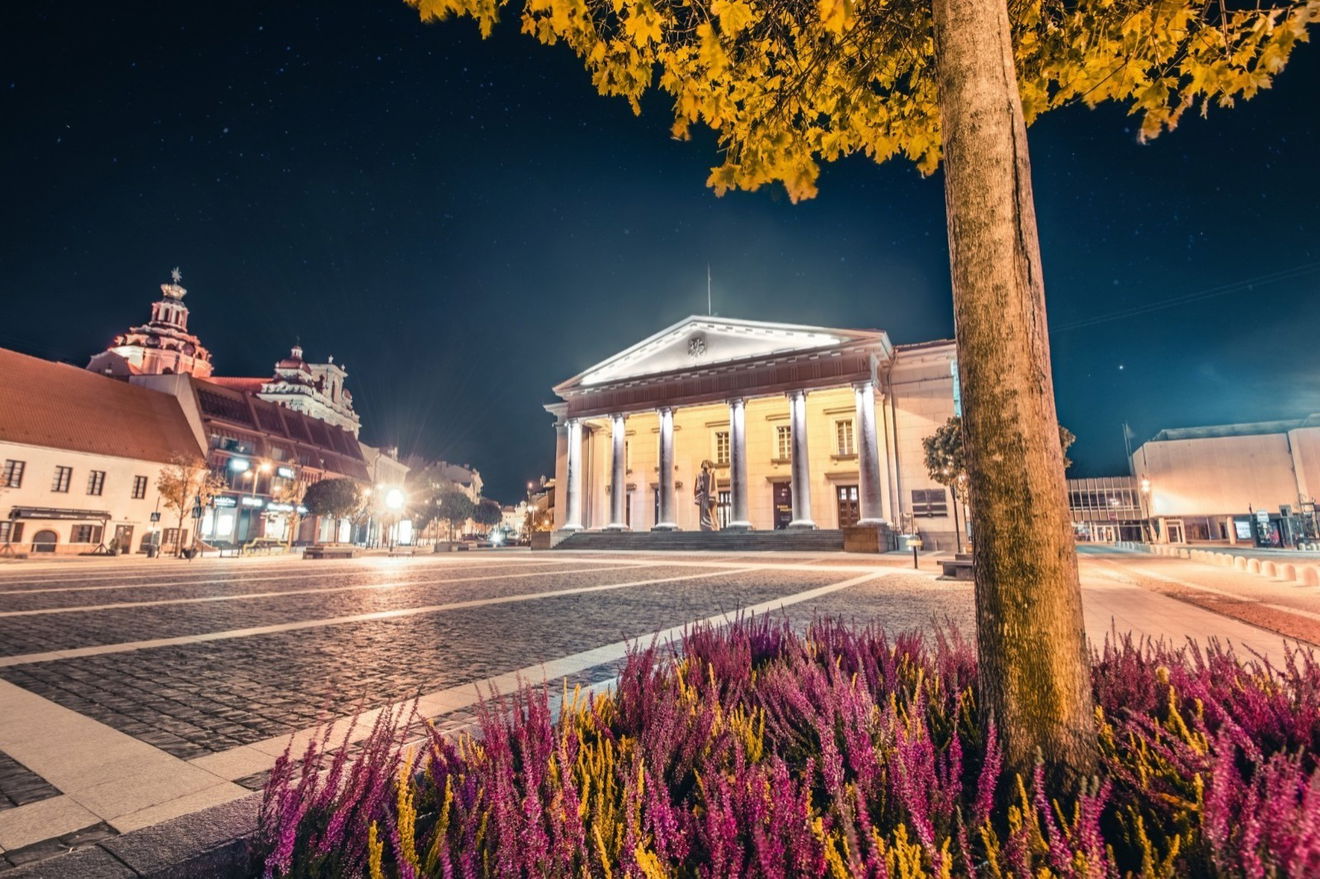 Day 2 - Vilnius
Private Walking Tour of Vilnius (3 hours)
Our English-speaking guide will meet you in your hotel reception and take you for a 2 hour privately guided walking tour of Vilnius. This is a great way to get your bearings on your first day and see all the major sights of the city. If you like to try the local food where the locals eat, we recommend you ask your guide to finish your tour at an authentic Lithuanian restaurant where the food is delicious and good value for money. If you don't fancy walking for 2 hours, you are very welcome to stop at one of the many cafes in the old town and chat with your guide about life in Lithuania, what to see etc and pick up some local tips. This 'stopping time' is part of your 2 hours so make the most of their company and local knowledge!
Day 3 - Vilnius
Self-Drive Car Hire from Vilnius
Your rental vehicle will be delivered to your hotel by our local partners and you can start your self-drive exploring. Today could be the perfect day to take a day trip out of town from Vilnius. We can recommend the best place for you, an itinerary, and where to stop on the way for lunch, or to see extra sights. For example, you might choose to visit Trakai castle and perhaps Rumsiskes open-air museum. Or you may head south the spa town of Druskininkai, visit Grutas Park Soviet sculpture park, and the pretty villages of Merkine, Liskiava, or take a hike in Dzukija national park. It's up to you! Return to your hotel, for your last night in Vilnius.
Day 4 - Vilnius to Riga
Self-Drive from Vilnius to Riga
The drive from Vilnius to Riga direct takes about 4.5 hours, but there is a lot to see on the way and you should definitely visit some of the main sights. There are some great accommodations on this route, and we highly recommend staying overnight en route and enjoying a fantastic country farmstead, spa hotel, manor house - or all three if you have the time! Arrive at your hotel in Riga.
Day 5 - Riga
Riga 3 Hour Private Walking Tour
You will be met in the reception area of your hotel by your English-speaking guide for your privately guided 3 hour walking tour of Riga. Our guide Inga will show you the main sights of Riga and help you get acquainted with the city. If you have particular interests, please do say as she will do her best to tailor the tour to suit you. She is also the best person to ask for any recommendations on where to go for dinner or the best cafes!
Day 6 - Riga
Self-Drive Exploring around Riga
You have the day ahead to explore Latvia, venture out of Riga and discover the coast or the country... There are some fantastic places to visit, including the Gauja National Park including Sigulda & Cesis towns, Jurmala the beach resort, Kuldiga a charming historic town, and many smaller places that are just as worthy of a visit and an exploration for local food, stories, history, and nature, perhaps a crafts workshop or farm... Tell us what you are interested in - then we can recommend the best places for you.
Day 7 - Riga to Tallinn
Self-Drive from Riga to Tallinn
The drive from Riga to Tallinn direct takes about 4.5 hours, but there is a lot to enjoy on the way and we will recommend what to see and where to eat. Take advantage of your self-drive freedom and stay overnight in one of our fantastic country farmsteads, spa hotels, or manor houses - see rural life and enjoy the unspoiled nature.
Day 8 - Tallinn
Tallinn Private Walking Tour (3 hours)
Our guide will meet you at your hotel reception and take you for a 3 hour walking tour of Tallinn old town. This is a great way to get your bearings and ask any questions about your stay in Tallinn, maybe you want to learn some basic words, get some tips on good cafes, or learn how to use public transport - our guide will be pleased to help!
Day 9 - Tallinn
Self-Drive Exploring around Tallinn
Today you have the freedom of the road to explore around Tallinn at your own pace, in your own hire car. There are some wonderful day trips, exploring into Estonia - how far you go depends on you! Lahemaa national park is one of our favourites, with a mix of manor houses, fishing villages and pretty countryside - we can even arrange you to have a special meal or cooking lesson in Lahemaa. If you head south, you could go to Parnu for the day - the quaint summer capital of Estonia - enjoy a stroll on the beach, a special lunch, visit the crafts guild, or take a nature tour in Soomaa national park. There are also many other smaller places to discover a long the way, it depends on your interests, so talk to us and we can help recommend the right places! And the end of your adventures today, it is time to return your hire car.
Day 10 - End of tour
Transfer to Tallinn airport
Our driver will pick you up from your hotel and drive you to the airport. End of your self-drive tour of the Baltics!
TOUR PRICES
From 980 EUR per person = based on two people sharing a double/twin room
All of our private tours are tailored to suit each client, so the final price is dependent on your preferences, travel dates & availability. Contact us for a quote.

TOUR NOTES
Design your Baltic self-drive tour based on your interests
Self-drive but with our local support 24/7
Can start any day of the year
Can start in Tallinn, Riga or Vilnius to suit your flights
Tailor the itinerary to suit you - add day trips, extra nights or travel on to our other destinations

Please note flights are NOT included in this package. If you wish to add flights to your booking please contact us, or you are welcome to book them yourself.
If anyone reading is unsure about visiting The Baltics, do go! Excellent.
We had a great time! We had never been to any of the three Baltic States previously, and were very pleasantly surprised. All of the hotels we stayed in were very good, towns and cities interesting. Highly recommend the walking tours, good to get an inside knowledge from enthusiastic, knowledgeable guides, Ben in Vilnius was great, he was keen to hear about where we come from also, others in Tallinn, Parnu and Riga were also excellent, ( The Seaplane Harbour in Tallinn, beaches in Parnu,, architecture in Riga / Vilnius were brilliant ) If anyone reading is unsure about visiting The Baltics, do go! Excellent.
Mr & Mrs M, Self-drive Baltic tour, June 2023