Baltic Christmas Markets Private Tour
Visiting Vilnius Riga Tallinn
Price
From From €1,042 pp
---
Date
From late November to Christmas
---
Get a Quote
Baltic Christmas Markets Private Tour
Three Christmas Markets in One Trip! Visit Vilnius, Riga & Tallinn Christmas markets on a tailor-made private tour. Exceptional guides & drivers, handpicked old town hotels and a lot of Christmas spirit! Choose the dates, flight and itinerary to suit you.
Tour Highlights
Vilnius, Riga & Tallinn Christmas Markets
Choose your travel dates
Old town festive walking tours
Sightseeing transfers
Old town 4* hotels
Local guides & a warm welcome!
Three Christmas Markets in One Trip!
The Baltic Capitals of Tallinn, Riga & Vilnius are beautiful in winter. A covering of snow makes the cobbled streets feel magical, the cosy cafes most welcoming, and nothing makes you feel more ready for Christmas than an old town Christmas market! Quaint wooden stalls offering a variety of gifts, totally different from those in the UK. With street entertainment, a festive atmosphere, and unusual gifts at great prices, you are sure to enjoy a Baltic tour in the run-up to Christmas!

Even if you don't need to shop - simply soak up the Christmas atmosphere whilst enjoying these wonderful cities, eating out in fantastic restaurants, and enjoy some local Baltic festive traditions or concerts - you will be thoroughly tuned in to Christmas when you return home!
Day 1 - Arrival in Vilnius
Private transfer from Vilnius airport to your hotel
Upon arrival at Vilnius airport you will be met by our driver for the short transfer into Old Town where you'll stay at our handpicked 4* hotel for 2 nights. You will be in the heart of Vilnius Old Town in the midst of all the festivities.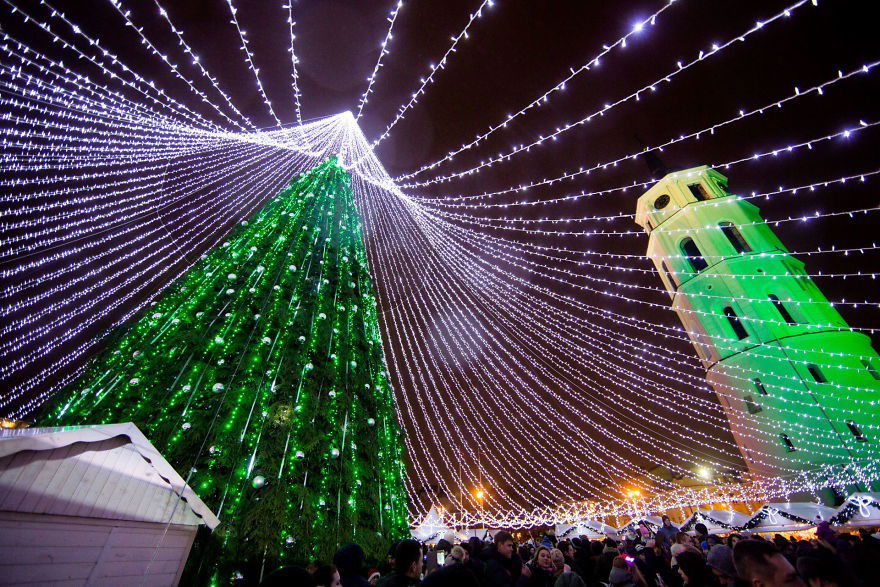 Day 2 - Vilnius
Vilnius Walking Tour with Private Guide (3 hours)
Our English-speaking guide will meet you in your hotel reception and take you for a 3 hour privately guided walking tour of Vilnius. This is a great way to get your bearings on your first day and see all the major sights of the city, making deciding what to visit and see in more detail a lot easier. Discover the Christmas markets, find small shops perfect for gift shopping, and get the latest recommended places to eat and relax after your sightseeing and shopping!
Day 3 - Vilnius to Riga (via Trakai)
Visit to Trakai Castle on route Vilnius to Riga
Our driver-guide will pick you up from your hotel and drive you to Riga. On the way you will visit the iconic island castle at Trakai. Enjoy winter scenes as you drive through the Baltic countryside, arriving to Riga ready to check-in to your old town hotel and start celebrating the Christmas festivities at the Christmas markets, dining in the cosy cafes and restaurants, and pick up unique gifts at the boutique shops and stalls.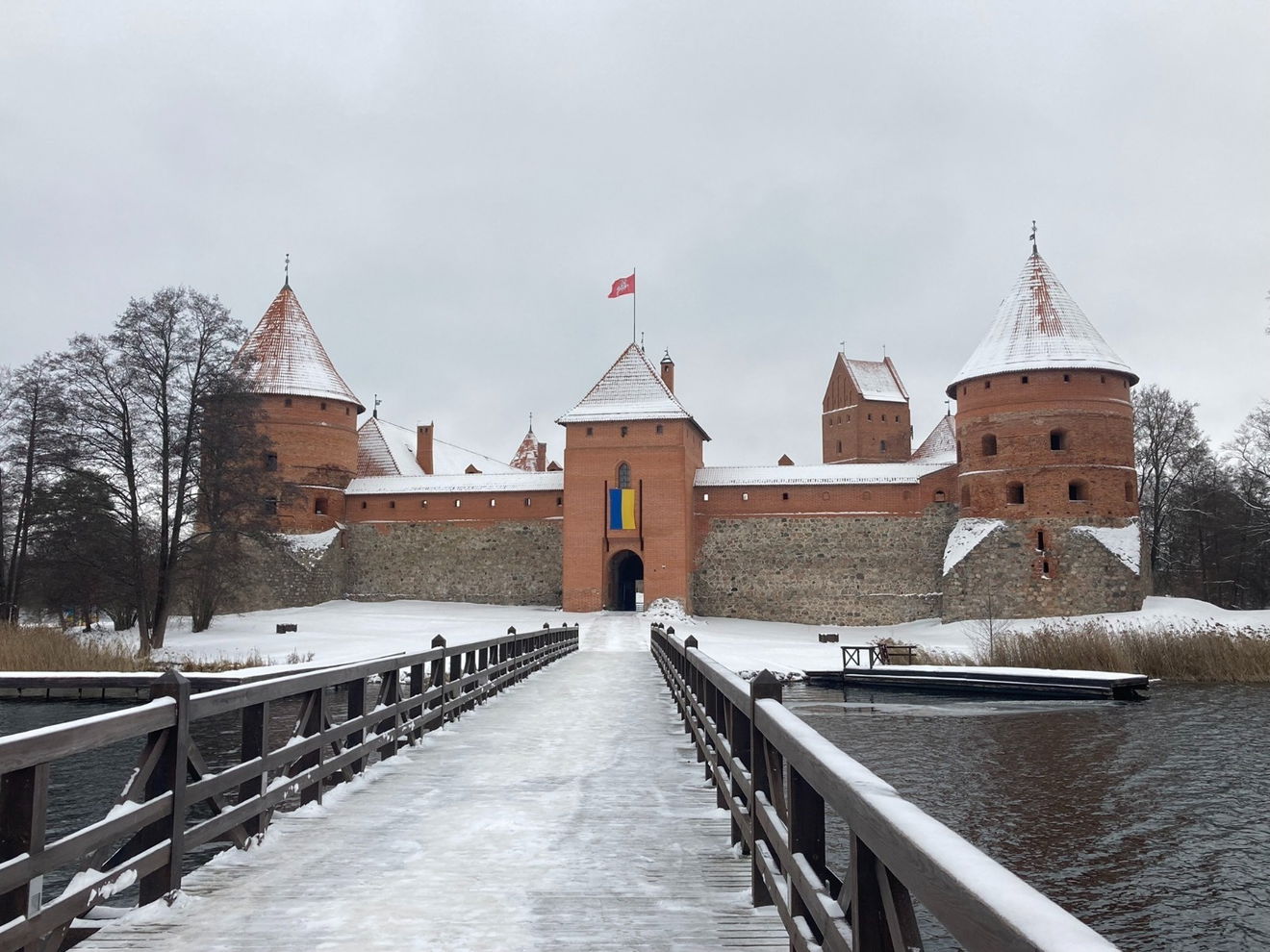 Day 4 - Riga
Walking Tour of Riga Old Town (3 Hours)
You will be met in the reception area of your hotel by your English speaking guide for your privately guided 3 hour walking tour of Riga. Our guide will show you the main sights of Riga and help you get acquainted with the city. If you have particular interests, please do say as she will do her best to tailor the tour to suit you. She is also the best person to ask for any recommendations on where to go for dinner and the best cafes! Riga has several Christmas markets dotted around the old town to explore and don't forget to venture out to the Art Nouveau area too.
Day 5 - Riga to Tallinn (via Parnu)
Private transfer from Riga to Tallinn with visit to Parnu
Our driver-guide will pick you up from your hotel and drive you up to Tallinn. The perfect opportunity to learn more about life in the Baltic states, chat about the history, food, culture or folklore tales, or do a sudoku or snooze in the back seats! As you like it. There will be a stop to visit the seaside town of Parnu and then on to Tallinn. Once you are checked-in to your hotel in Tallinn you can take to the old town streets, softly lit with streetlamps and Christmas decorations, head for the main square to find the Christmas market and order yourself a glass of glogg or spiced cider to warm the cockles and set the festive mood. nothing beats Tallinn at Christmas.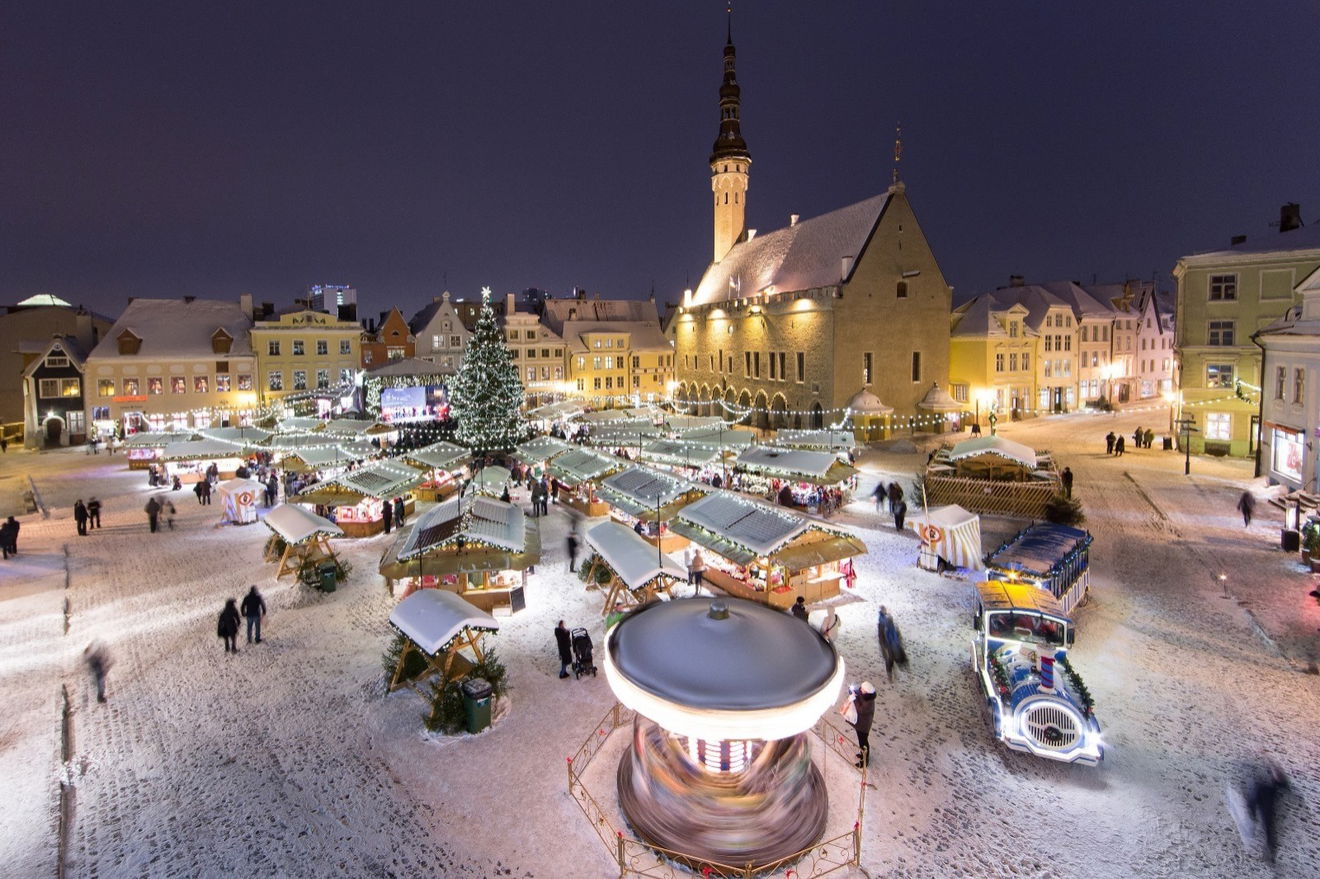 Day 6 - Tallinn
Tallinn Old Town Private Walking Tour (3 Hours)
Our guide will meet you at your hotel reception and take you for a 3 hour walking tour of Tallinn old town. This is a great way to get your bearings and ask any questions about your stay in Tallinn, maybe you want to learn some basic words, get some tips on good cafes, or learn how to use public transport - our guide will be pleased to help! Tallinn Christmas festivities focus around the town hall square, but the small shops in cosy cobbled streets go on and on, making this a most charming old town at Christmas.

Day 7 - Depart Tallinn
Private transfer to Tallinn Airport
Our driver will pick you up from your hotel and drive you to the airport, laden down with your Christmas stocking fillers and fantastic memories of three beautiful and very different old town Christmas markets!
TOUR PRICES
From 794 EUR per person = based on two people sharing a twin or double room
All of our private tours are tailored to suit each client, so the final price is dependent on your preferences, number of people travelling, dates & availability. Contact us for a quote.

TOUR NOTES
This tour can be made shorter - discuss this with us to create your tour
For groups of friends we can offer a discount, so please ask us about this
If you want to visit a particular place or event - we can arrange this
This tour does not include flights - you can book your own or we can do this for you
Tailor-made itineraries are our speciality and we want you to get the right tour for you
Call or email us to discuss your plans
Baltic Christmas Markets - Vilnius, Riga & Tallinn
My daughter Iona and I have to say how very much we enjoyed the trip - everything seemed to have gone very smoothly. All the three guides were fantastic too. We loved all the walks in each cities - simply perfect - pace, time and seeing things! We have recommended this trip and the company to all our family and friends.
Padden-Duncan Family, Baltic Christmas Markets Tour, December 2018
Contact Sarah to find out more.
Sarah has become our Baltic Christmas Market expert over the years, send her an email to discuss your plans.
Email Sarah