'Between Shades of Gray' - Lithuania Tour
Visiting Vilnius Curonian Spit Kaunas Palanga
Between Shades of Gray Lithuania Tour
Our freedom and democracy tour of Lithuania is the official tour for the bestselling novel 'Between Shades of Gray' by Ruta Sepetys. Ruta is our dear friend and we support her wonderful storytelling by showing you the true beauty of Lithuania contrasted with the haunting history of Soviet occupation and deportations as told in 'Between Shades of Gray'. Understanding this period of history has never been more important.
Tour Highlights
A tour about Freedom & Democracy in Europe
Visit places that inspired Ruta to write 'Between Shades of Gray'
Exceptional personal guides and drivers
Can start any day of the year
Choose from 4 or 5 star hotels
Tailor the itinerary to suit you
The true importance of Freedom & Democracy in Europe.
It is a great honour for us to be the official organisers of 'Between Shades of Gray' literary tours in Lithuania. We have shared in the author Ruta Sepetys' extraordinary journey; from arranging Ruta's first trip to Lithuania, to the release of the book-based movie 'Ashes in the Snow'. Ruta is our dear friend and we aim to support her wonderful storytelling by showing you the true beauty of Lithuania contrasted with the haunting history told in 'Between Shades of Gray'.
Visit the places that inspired Ruta to write the book, feel Ruta's words come to life when you are standing in a cattle truck used for deportation, a prison camp used for interrogation or the secret Cold War missile base in the depths of the Lithuanian countryside. Learn about Lithuania from local guides including our very own Linas Zabaliunas who has accompanied Ruta on this incredible journey.
"Linas Zabaliunas arranged my very first trip to Lithuania in 2005. He organized complex travel throughout the entire country as well as meetings with extended family members. I returned to Lithuania the very next year, this time on a research project for a novel I dreamed of writing. Once again, a complex trip with extensive research for my project was organized. I could never have dreamed that my book would become a worldwide bestseller and change the course of my life—and it would not have been possible without Linas Zabaliunas. Many years have passed and Baltic Holidays is still part of every trip I take to Lithuania. We began working together as strangers and I now consider them my dearest friends." Ruta Sepetys, New York Times Bestselling Author
* Please note that Ruta Sepetys is not directly connected with this tour, nor with the company Baltic Holidays and will not be present during this tour. This tour is simply inspired by Ruta's work and our personal connections to her journey.
Day 1 - Arrival in Vilnius
Private transfer from Vilnius airport to your hotel
Our driver will meet you in the arrivals hall and drive you to your hotel in the Old Town. You will soon be exploring the cobbled streets of Old Town. Welcome to Lithuania!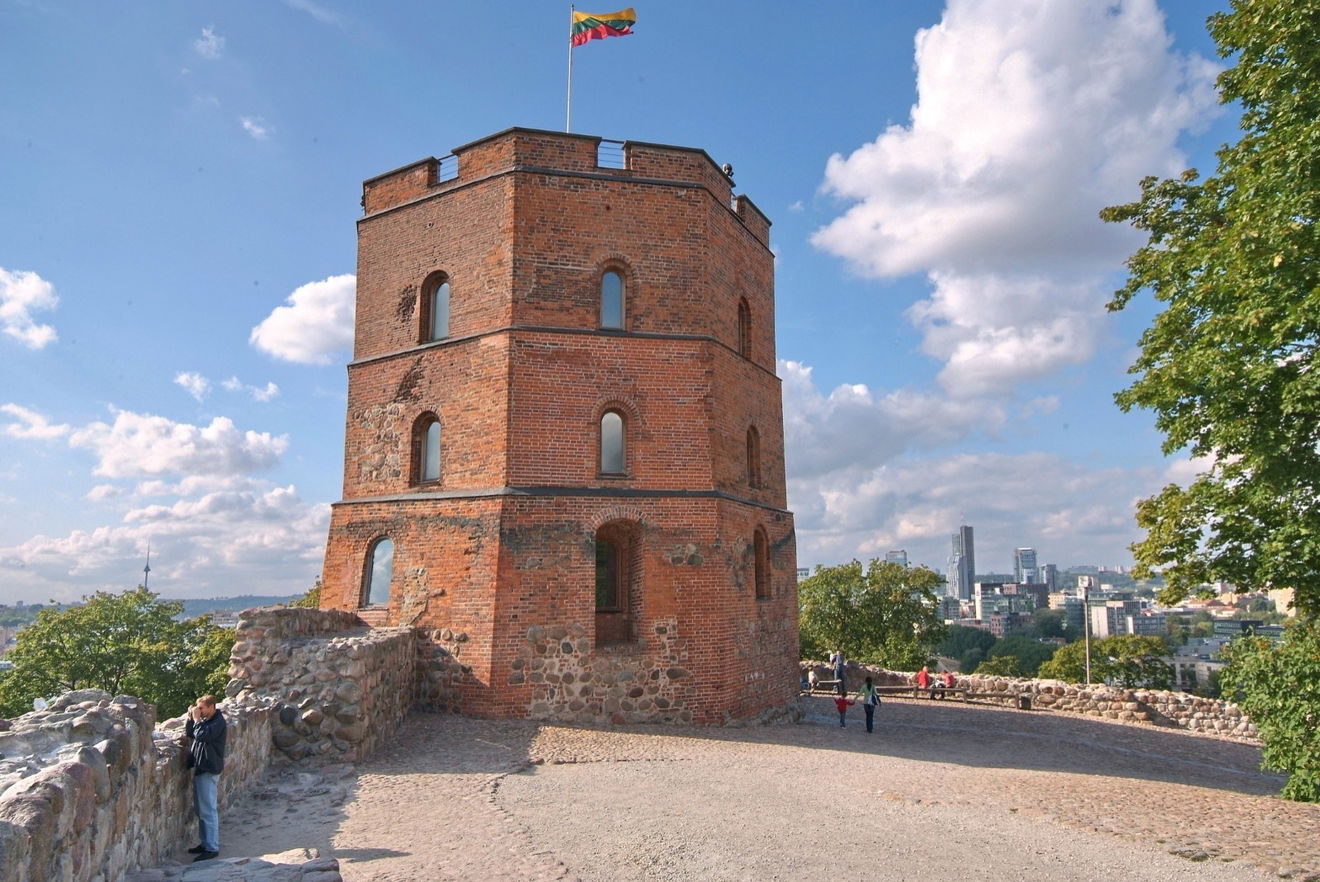 Day 2 - Vilnius
Vilnius Walking Tour Plus KGB Museum
Our guide will meet you at your hotel reception and take you for a 3 hour walking tour of Vilnius to get acquainted with the city. After your walking tour, there will be the opportunity to have a refreshment break (payable locally) after which you will visit the very moving KGB museum for a tour lasting approx 1.5-2 hours.
Day 3 - Vilnius
Trakai Castle & Grutas Park Private Day Trip
This enjoyable and informative day trip visits two of Lithuania's unique sights in the company of our friendly English-speaking driver. Grutas Park Soviet Sculpture Park has grown from strength to strength since we first visited. The local 'mushroom millionaire' bought up many of the old discarded Soviet statues that people were happy to see torn down from town squares across Lithuania, and parked them up here anticipating that one day they'd come in handy... and they did! Trakai Castle is a stunning island castle; walk out across the wooden bridges and explore the inner courtyard and exhibitions, before returning to the mainland and wandering the picturesque streets of Trakai village with its wooden houses and try a local 'kibinai'... look back to view Trakai Castle in all its splendour, a truly iconic Lithuanian view. The day trip starts with our driver picking you up at your hotel at 10.00 and you will return to Vilnius approximately 18.30. Lunch is available at the restaurant at Grutas Park (not everything has mushrooms!) but this is not included. The tour goes at your pace and if you need to stop our driver will be happy to do so.
Day 4 - Vilnius to Kaunas
Vilnius To Kaunas (Via Rumsiskes) Private Transfer
Our driver-guide will pick you up from your hotel and drive you to Kaunas. On the way you will visit Rumsiskes open-air ethnographic museum. Rumsiskes is a charming collection of traditional houses and farmsteads laid out in picturesque countryside. During peak season you can watch local artisans at work, and many artefacts are on display. A delightful way to experience Lithuanian traditions and heritage. It is also home to a Siberian jurta and railway wagon that exhibit the story of the harrowing Soviet deportations of Lithuanians to Siberia - just like Ruta writes about in 'Between Shades of Gray'. This is a period of history that everyone should learn about.
Day 5 - Kaunas
Kaunas Old Town & Ninth Fort Private Day Trip
Our driver will pick you up from your hotel and take you on a 2 hour tour of Kaunas. You will have opportunity to get a delicious lunch in a local restaurant (payable locally), before heading out of town to the sobering Ninth Fort Museum. After a tour of the Ninth Fort you will return to your hotel.
Day 6 - Kaunas to Palanga
Kaunas To Palanga (Via Cold War Museum) Private Transfer
Our driver-guide will pick you up from your hotel and drive you to Palanga. On the way you will visit the chilling Cold War Museum at Plokstine (a former secret Soviet missile base).
Day 7 - Palanga
The Magic Of The Curonian Spit
Visiting this unique place in Lithuania will be a memorable experience during your stay in this beautiful country. You will have a chance to admire endless sandy dunes, pine trees and the Baltic sea. In Juodkrante you will have the possibility to visit the Hill of Witches an open-air museum based on legends and Lithuanian fairy tales. Visiting Nida - is the main destination of this trip. Nida is famous for being a former fishermen village, nowadays it is a resort with the highest sand dunes where you can see a panoramic view of the spit extending into the Russian enclave of Kaliningrad. Your private driver-guide will tailor the tour to suit your pace and interests.
Day 8 - End of the tour
Private transfer to...
Depending on flight options, our driver can take you to the airport for your flight from Palanga. Alternatively, you could have a transfer back to Vilnius (perhaps via the Hill of Crosses or other sights enroute). Or you could extend your tour to Riga, perhaps via Liepaja visiting other Soviet sights on the way including Karosta prison or Irbene radio telescope... Please discuss these options with us.
TOUR PRICES
From 1.650 EUR per person = based on two people sharing a double/twin room in 4* hotels
All of our private tours are tailored to suit each client so the final price is dependent on your preferences, travel dates & availability. Contact us for a quote.
TOUR NOTES
Everything about this tailor-made private tour can be altered to suit you.
For groups of friends we can offer a discount, so please ask us about this.
If you want to visit a particular place or event - we can arrange this.
This tour does not include flights - you can book your own or we can do this for you.
Contact us to discuss your travel plans.
Between Shades of Gray - Freedom & Democracy Tour
Thanks for your warmest escort in Vilnius and Kaunas, it has been a wonderful time. The sightseeing in KGB Museum, 9th Fort and Cold War Museum let our visions open wide that we seem to be the "Pioneer" to share Lithuania's experience amongst our peers group. We really love the whole trip – Between Shades of Gray, not to mention the accommodation, heritage sites and great food.
Mrs Wong, Between Shades of Gray tour, May 2018