Beyond the Baltic Capitals Private Tour
Visiting Kaunas Palanga Zagare Bauska Parnu Muhu Saaremaa Tallinn
Beyond the Baltic Capitals Private Tour
If you have been to the Baltic capitals of Tallinn, Riga & Vilnius, this tour welcomes you back to discover more of Estonia, Latvia & Lithuania. You will be surprised at how many outstanding sights and experiences there are beyond the Baltic capitals; from a secret Soviet missile base to spectacular sand dunes, local villages, manor houses, bog walks and tranquil islands.
Tour Highlights
Perfect follow-up tour if you have already been to Tallinn, Riga & Vilnius
Coast, countryside, nature, villages & culture
Exceptional personal guides and drivers
Can start any day of the year
Tailor the itinerary to suit you - add day trips, extra nights or travel on to our other destinations
Day 1 - Arrival to Kaunas
Transfer from Kaunas Airport to Your Hotel
Our driver will meet you in the arrivals hall and drive you to your hotel. Welcome to Kaunas!
(You can also arrive to Vilnius if flights are more suitable.)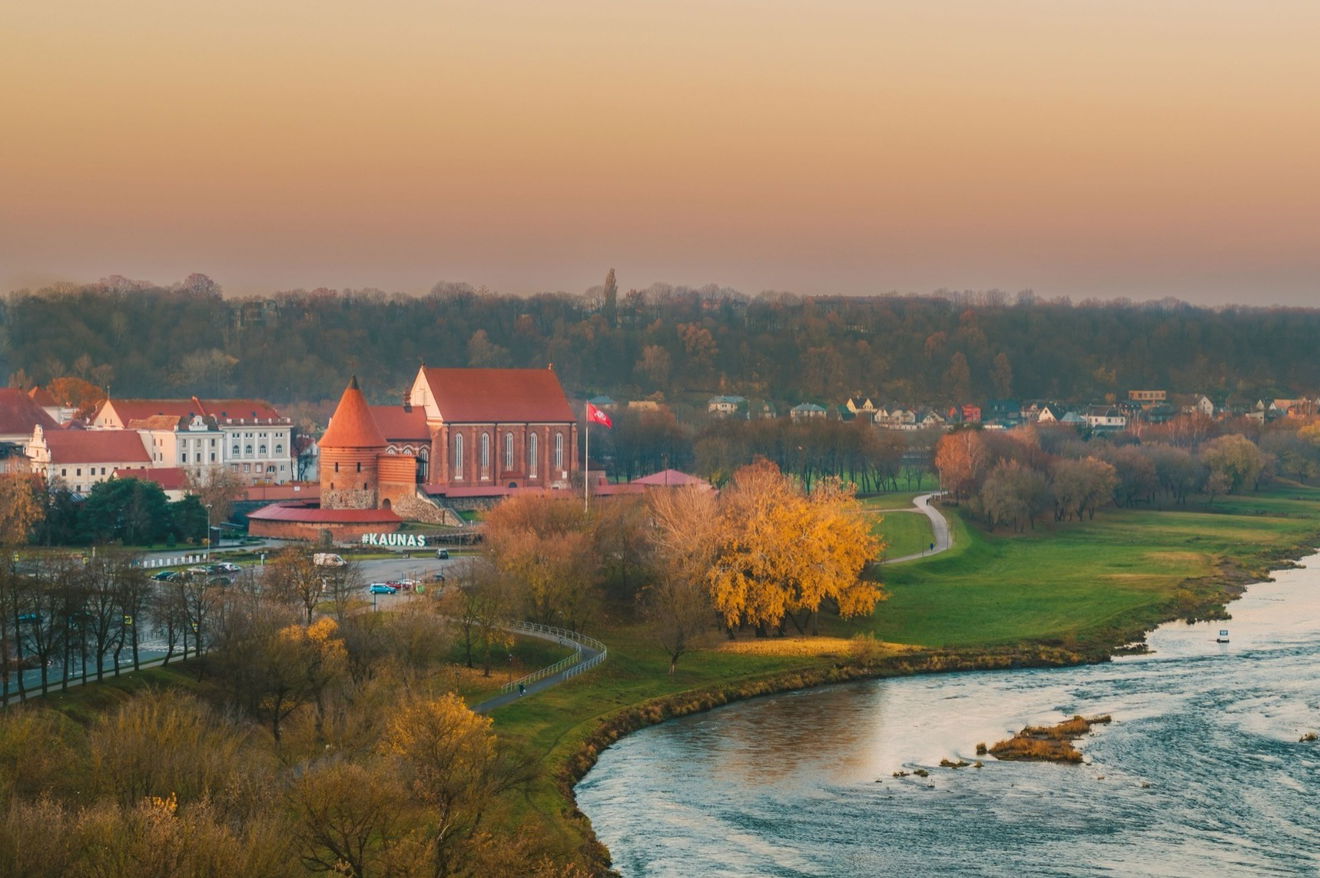 Day 2 - Kaunas
Kaunas Old Town, Ninth Fort & Pazaislis Monastery Private Day Trip
Today you will explore Kaunas old town and city centre, before heading out to the outskirts for two very different experiences. First of all you will visit the Ninth Fort; a former prison camp and a chilling reminder of Lithuania's recent past. After we visit the stunning Pazaislis monastery which is the largest monastery complex in Lithuania, and the most magnificent example of Italian baroque architecture in the country. A mix of emotions and impressions today, but you will feel you know Lithuania so much more than when you woke up this morning.

Day 3 - Kaunas to Palanga
Kaunas to Palanga (via Cold War Museum) Private Transfer
Our driver-guide will pick you up from your hotel and drive you to Palanga. On they way you will visit the fascinating Cold War Museum at Plokstine (a former secret Soviet missile base). See local life along the way...
Day 4 - The Curonian Spit
The Magic of the Curonian Spit Private Tour
This is a day trip with a guide and their car, which focuses on the Curonian Spit. Visiting this unique place in Lithuania will be a memorable experience during your stay in this beautiful country. You will have a chance to admire amazing sights, sandy dunes, pine trees and the Baltic sea. In Juodkrante you will have the possibility to visit the Hill of Witches an open-air museum based on legends and Lithuanian fairy tales. Visiting Nida - is the main destination of this trip. Nida is famous for being a former fishermen village, nowadays it is a resort with the highest sand dunes where you can see a panoramic view of the spit.
Day 5 - Palanga to Bauska
Palanga to Bauska (via Zagare) Private Transfer
Private transfer from Palanga to Bauska with our driver-guide. On the way you will visit Zagare, a small town on the Lithuania-Latvia border that has historical significance and more excitingly a very active community trying to rebuild this creative, artistic outpost. Depending on your interests you can visit local crafts people, take a cycle tour around the village, or maybe we can match your interests with a local insight eg if you work for a regional park and want to meet the local regional park team to swap stories! Accommodation in a unique manor house guesthouse, with the most wonderful hosts for two nights.
Day 6 - Tervete Nature Park
Tervete Nature Park Private Tour
A lovely excursion from your manor house guesthouse to the nearby Tervete Nature Park. Your manor house hosts will drive you to Tervete, where you can take time to explore this lovely area of Latvia, with its winding forest paths and wooden sculptures. After your time in the nature, you can enjoy lunch and a wine tasting at a local winery OR lunch and beer tasting at a local brewery. Return to the manor house and the rest of the day at leisure using the spa or relaxing in the manor.
What do you really want to see in Latvia?
Day 7 - Bauska to Parnu
Bauska to Parnu (via Open Air Museum or Motor Museum) Private Transfer
Private transfer from Bauska to Parnu with our driver-guide. On the way you can choose to stop and visit the Open Air Ethnographic museum OR Riga Motor Museum. Both are on the outskirts of Riga and well worth a visit, ideal to break up your journey to Parnu. Accommodation in Parnu at a contemporary spa hotel, quaint boutique hotel or stunning Art Nouveau villa...
Day 8 - Parnu
Soomaa Private Day Trip
The perfect way to explore the Estonian nature and wilderness, with our wonderful local guides on a day trip to Soomaa national park. (This is often an unexpected highlight of the trip!) Meet the locals, learn about the nature and simply enjoy being in some of the most stunning, tranquil, unspoilt nature in Europe. You can meet your guide at Soomaa, or be picked up from your accommodation if you need a transfer. During your day you will enjoy a picnic lunch in the heart of the nature and can choose from one of the following activities: canoeing on the river, hiking in the bog (bog walking and/or bog shoeing), paddling dugout canoe, picking and tasting mushrooms and wild berries, tracking wildlife, kick sledding when the water is frozen, snowshoeing & back-country skiing.
What do you really want to see in Estonia?
Day 9 - Parnu to the Estonian Islands
Parnu to Saaremaa (with sightseeing on Muhu) Private Transfer
Our driver-guide will pick you up from your hotel and drive you (via the ferry and causeway) to Saaremaa island. On the way you will enjoy some of the highlights of Muhu Island including Muhu Ethnographic Museum and enjoy lunch at a local restaurant (payable locally). Upon arrival to Saaremaa check in to your handpicked accommodation - choose from a spa hotel or boutique hotel...
Day 10 - Saaremaa Island
Highlights of Saaremaa Private Tour
Our driver-guide will pick you up from your hotel and you will explore the island of Saaremaa, it is an idyllic island full of natural and cultural sights including Kaali Meteorite Craters, Angla Windmills, Karja Medieval Church of St. Catherine and Panga cliff. Tour lasts approximately 5 hours with our friendly local guide, transport by car and all entrances included.
Day 11 - Saaremaa to Tallinn
End of the tour - Saaremaa to Tallinn Private Transfer
Our driver-guide will pick you up and drive you to Tallinn airport for your flight home (or you are welcome to stay in Tallinn for a couple of nights).
TOUR PRICES
From 2,600 EUR per person = based on two people sharing a double/twin room in 4* hotels
All of our private tours are tailored to suit each client so the final price is dependent on your preferences, travel dates & availability. Contact us for a quote.
TOUR NOTES
Everything about this tailor-made private tour can be altered to suit you.
For groups of friends we can offer a discount, so please ask us about this.
If you want to visit a particular place or event - we can arrange this.
This tour does not include flights - you can book your own or we can do this for you.
Contact us to discuss your travel plans.
The route was well-chosen, with many outstanding sights to be seen each day.
We very much enjoyed our short trip with you, and appreciated your quick and personal service when we contacted you. The route was well-chosen, with many outstanding sights to be seen each day. The hotel accommodation was good and we appreciated the central location in Sibiu and Alba Iulia. Our guide, Stefan, was first rate. He was personable and flexible. He also had excellent English, was passionate about Romania, and imparted his extensive knowledge clearly and extensively.
Tailor-made Romania Private Tour, John & Diana, October 2019
We had a very enjoyable holiday in Stockholm
We had a very enjoyable holiday in Stockholm,a very good hotel in all respects. The lady who took us for our introductory tour was very good and told us much about Sweden and the City and we both enjoyed the Vasa and History museums. We did the boat trip around the islands which was interesting and a real eye-opener. The flights and the transfers were on time and comfortable. Thank you for organising another great trip, if all goes well we will be back!
Mr & Mrs Thomas, Stockholm City Break, July 2023
You did a very good job of setting this up, directing us to interesting and varied places
Our trip went very well. Everything was a highlight but I think the best part were the guides. They were so knowledgeable, friendly, willing to answer all our questions. Marina would be my best friend if I lived in Finland. Ivo, Erlens, and, Linas were great too. The bike tour guides were fantastic also. All of them were passionate about their country and very knowledgeable about what we were seeing. Through them we felt we got to know the country, the history, the people and them too. Everyone was precisely on time. I think you did a very good job of setting this up, directing us to interesting and varied places: a hike through the bog, castles and palaces, cute towns, etc. The hotels were great. Friendly staff and so very well located. Again, thank you for making this trip so wonderful. I'd easily go on another trip with you.
Tailor-made Baltic Capitals Tour, The Bells, August 2019