Estonian Capitals of Culture Private Tour
Visiting Tallinn Tartu Parnu
Estonian Capitals of Culture Private Tour
A semi-independent private tour of the Estonian cities of Tallinn, Tartu & Parnu with private sightseeing transfers and excursions - all tailor-made to suit your pace, interests and budget.
Tour Highlights
Tallinn, Tartu & Parnu
Private sightseeing transfers
Private day trips
Add-on a manor house stay, spa or time on the islands
Exceptional local guides & drivers
Tailored to suit you
Day 1 - Arrival to Tallinn
Private Transfer from Tallinn Airport to your Hotel
Our driver will meet you in the arrivals hall and drive you to your hotel. You will soon be checked in and exploring the old town of Tallinn - welcome to Estonia!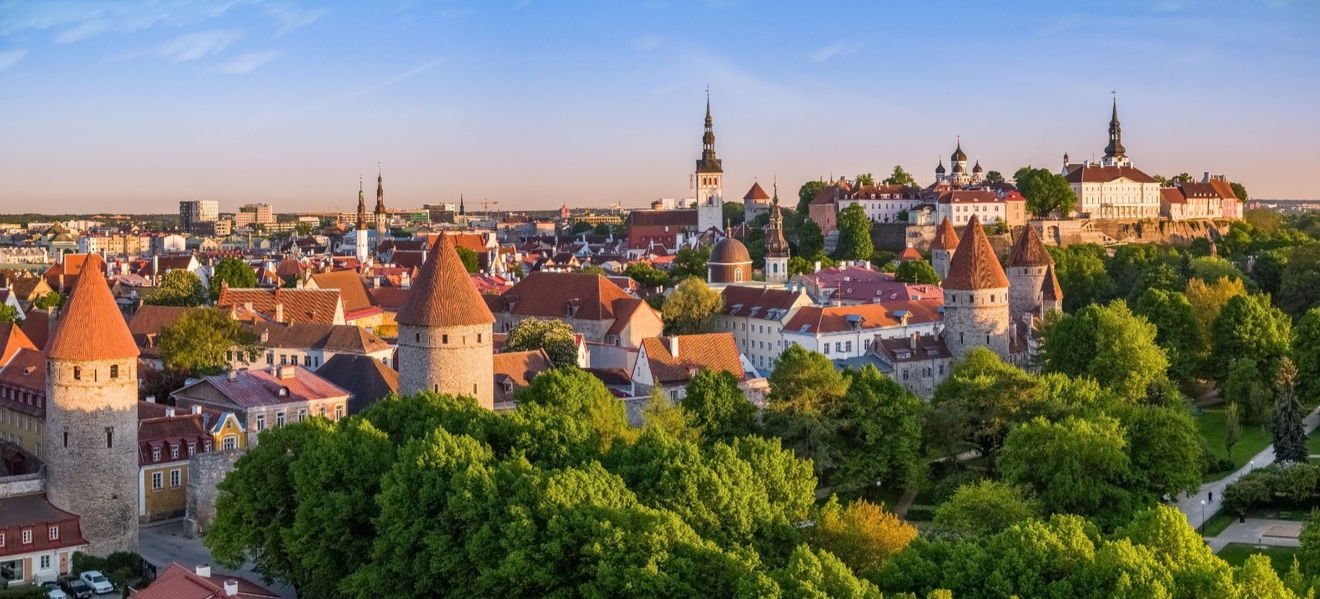 Day 2 - Tallinn
Private Walking Tour or Cycling Tour of Tallinn
Enjoy a 3 hour walking tour of Tallinn with your own private guide, discovering the old town and learning about its history, secrets and best places for food & drink! A great way to get acquainted with the old town and Estonia - from a local!
Or you can choose to discover Tallinn by bike in the company of a local guide. Explore beyond the old town at a relaxed pace, admiring the scenery and sights including: Kadriorg Palace and Park, Presidential Palace, Laulupidu Song Festival Grounds, Maarjamäe WWII Memorial, Olympic Center, Pirita beach, and the seaside promenade. Our guides are trained, knowledgeable locals with a passion for sharing their city.
Day 3 - Tallinn
Tallinn Market & Street Food Private Tour
Tallinn has a lively food scene, from Michelin restaurants to farm-to-fork markets. this tour is certain to stimulate the senses. Visit the very impressive "Balti Jaama" market with our foodie guide and browse Tallinn's best selection of food and antiques. This newly renovated building is full of soul and character from the variety of food and people who work and visit there. With over 300 different merchants and shops, selling fresh fish, meat, street food, Estonian design and handicrafts, clothes, household goods and antiques.we will browse the stalls and discuss Estonian food culture! Only a few steps from the market is Telliskivi, an area of regenerated old industrial factories bursting with creative spaces, street art, quirky bars and shops, a hipster paradise! A one-course meal, dessert and soft drink/coffee/tea is included.
If you want to enjoy the very best culinary experiences in Estonia, we can make your reservation at Michelin restaurants or our favourite local eateries during your travels.
Day 4 - Tallinn to Tartu
Tallinn to Tartu Private Sightseeing Transfer
Our driver-guide will pick you up and drive you to Tartu, sightseeing along 'the Onion Road' on the way. Start with a visit to Käsmu captains village on the north coast of Lahemaa national park, here you will visit the museum and enjoy a short walk. Then it's on to Kolkja Old Believers "Onion & Fish Restaurant" where you are warmly welcomed with a hot samovar of tea and traditional dining, a real local experience. A visit to Alatskivi Castle, and a drive along the lake shore of Lake Peipsi will bring you to your next hotel in Tartu.
Day 5 - Tartu
Tartu 3 Hour Private Walking Tour
A 3 hour walking tour of Tartu with our friendly local guide will get you acquainted. Go at your pace, visiting the main sights of Tartu and getting to know about this pretty university town in Estonia. This is a great way to go-local and enjoy their anecdotes and stories of life in Tartu. If you are into crafts or looking for gifts, be sure to get their recommendations on the local crafts guild and small boutique shops!
Tartu will be European Capital of Culture 2024 - a wonderful time to visit with lots of cultural events!
Day 6 - Tartu
Private Tour to Setomaa
A very memorable day trip to the region of Setomaa in south-eastern Estonia, indulging in the hospitality of the Seto people. In the company of your local guide, you will drive to the Seto Peasant Museum at Värska. The Seto people are one of the most original ethnic groups in the Baltic region and their culture and folk traditions live on. The museum is a copy of a traditional Seto farm and you can try Seto traditional food. It is a real privilege to be welcomed into a local community and to share in their traditions and values.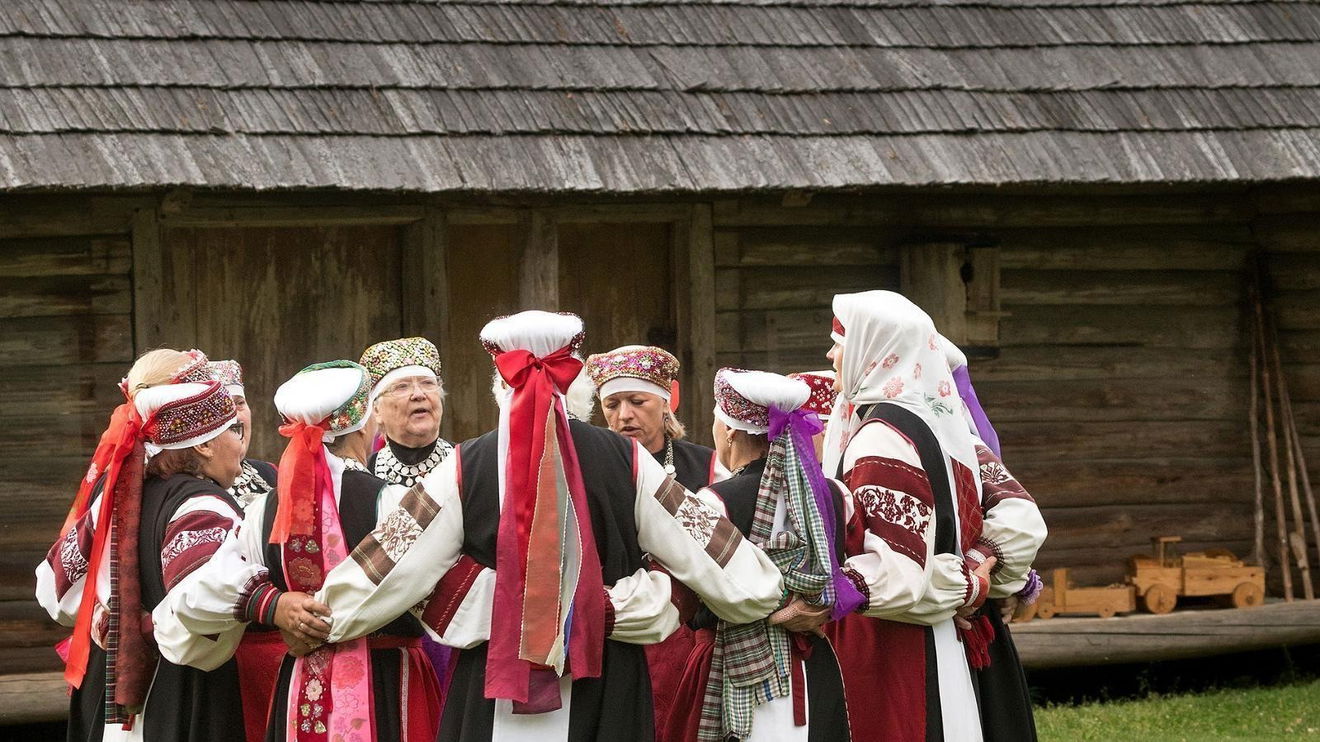 Day 7 - Tartu to Parnu
Private Transfer from Tartu to Parnu (via Viljandi)
Our driver will pick you up from your hotel in Tartu and drive you to Parnu. On the way you will stop off for a couple of hours in the small town of Viljandi with its historic castle ruins and quaint old town. In Viljandi there are some nice cafes and restaurants where you can enjoy coffee or lunch.
Day 8 - Parnu
Parnu Walking Tour with a Private Guide (3 hours)
Discover the lovely resort town of Parnu on this private walking tour. Your guide will go at your pace and share their knowledge and stories about Parnu while showing you the main sights. If there is anything you particularly want to see, please say, as we will try to include it in the tour. And of course, always ask for recommendations on cafes and restaurants from our local guide.
Day 9 - Parnu
Soomaa Private Day Trip
The perfect way to explore the Estonian nature and wilderness, with our wonderful local guides on a day trip to Soomaa national park. Meet the locals, learn about the nature and simply enjoy being in some of the most stunning, tranquil, unspoilt nature in Europe. You can meet your guide at Soomaa, or be picked up from your accommodation if you need a transfer. During your day you will enjoy a picnic lunch in the heart of the nature and can choose from one of the following activities: canoeing on the river, hiking in the bog (bog walking and/or bog shoeing), paddling dugout canoe, picking and tasting mushrooms and wild berries, tracking wildlife, kick sledding, snowshoeing & back-country skiing.
Day 10 - Parnu to Tallinn
Parnu to Tallinn (via Eco-Farms) Private Transfer
Our driver-guide will pick you up from your hotel and drive you to Tallinn. On the way you will visit some Estonian eco-farms to get a glimpse into rural Estonian life and local farming. The format of this final day will depend upon your onward travel. if you have a flight to catch we can take you straight to the airport, or you can add an extra night in Tallinn should you wish.
Alternatively, if you have time to spare, we can include a stay on the islands of Muhu or Saaremaa to finish your tour of Estonia in style - perhaps a luxury manor house, sleek spa, or eco-hideaway.
TOUR PRICES
From 2,270 EUR per person = based on two people sharing a double/twin room in 4* hotels
All of our private tours are tailored to suit each client so the final price is dependent on your preferences, travel dates & availability. Contact us for a quote.
TOUR NOTES
Everything about this tailor-made private tour can be altered to suit you.
For groups of friends we can offer a discount, so please ask us about this.
If you want to visit a particular place or event - we can arrange this.
This tour does not include flights - you can book your own or we can do this for you.
Contact us to discuss your travel plans.
Estonia was fantastic, so many thanks to you and your staff
Estonia was fantastic, so many thanks to you and your staff (particularly Jurga) for arranging everything for us. Many highlights but in particular the cookery class at Mer Mer was unique (our guide Ivo took the recipes for the salmon and duck dishes we made - appreciate if you could ask him to forward on please?); the hotels were very very good, dinner at the Tchaikovsky was an unforgettable experience and the bog walking and canoeing in Soomaa was great fun. The dawn and evening safaris they run there to watch the beavers looked really good, albeit April would be a cold month to do that in. Tallinn was also a lovely city to spend a couple of days and nice to see it prior to tourist season. All the guides were excellent too. Our 7 yr old daughter had a fab time too!
The Wise Family, Estonia Family Holiday, April 2019