Kiruna Winter Experience
Visiting Kiruna Jukkasjarvi
Price
From From €1,775 pp
---
Date
Late November to late March
---
Get a Quote
Kiruna Winter Experience
A winter break in Kiruna in Swedish Lapland is full of authentic experiences that create awesome memories. What will be your highlight? A husky ride through the snowy forest, snuggling up in your Icehotel bedroom, hunting the Northern Lights, meeting the reindeer or listening to local stories around the campfire?
Tour Highlights
Swedish Lapland winter wonderland
Icehotel experience
Winter activities
Local excursions
Private transfers
Tailored to suit you
Kiruna is the most northern town in Sweden, nestled in the wilderness of Swedish Lapland. In winter, under a thick blanket of crisp white snow, it is a winter wonderland where northern lights dance in the sky, huskies pull sledges through the snow-sprinkled trees, the Icehotel is reinvented for another year and Sami culture welcomes you to enjoy the cold, stark landscape wrapped up warm around a fire with a hot drink and storytelling. A beautiful place with extraordinary people and experiences.
Day 1 - Arrival to Kiruna
Transfer from Kiruna airport to your hotel
Our driver will meet you in the arrivals hall and drive you to your hotel (they will be holding a sign with your name on it). Welcome to Kiruna! Check in to your hotel and relax for the evening; enjoy dinner in the restaurant, take a stroll in the local surroundings, enjoy the hotel spa. the evening is free for you to get settled in. (There are many different activities available in Swedish Lapland, so please discuss with us what you are interested in - photography tours, northern lights hunting, wildlife. we can then recommend the best experiences for you!)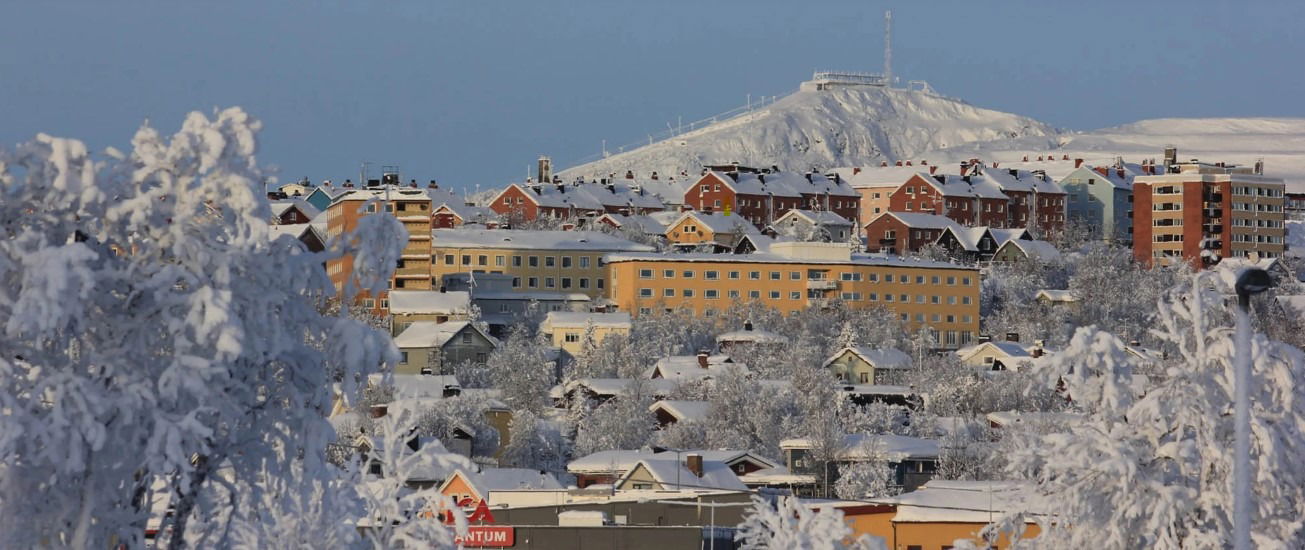 Day 2 - Kiruna
Northern Lights Hunt by Snowmobile
Join us on an exciting hunt for the Northern lights by snowmobile. From the hotel area we ride out into the polar night to get a glimpse of the mythical light phenomena. During our trip, we will take a break out in the wilderness and enjoy a light snack from the Lapland kitchen. You even have the opportunity to drive your own snowmobile at an extra fee if you do not wish to take turns. This is a group tour and is also available as a private tour.
Please note that there are many activities to enjoy in Swedish Lapland in all seasons, please chat with us about the options!
Day 3 - Kiruna
Forest Escape Husky Ride
Experience a ride on a dog sled through the magical winter landscape of Lapland. The landscape is like something out of a storybook and the cold air is filled with the warm breath of our huskies as they run along an exciting forest trail away from other tourist kennels. Halfway, we stop at our lávvu, a traditional Sami-style tipi, where you will warm yourself around a roaring fire with a steaming mug of coffee or hot chocolate in your hands, served with homemade apple cake. The scenery that surrounds you is beautiful, and with plenty of time to cuddle the dogs, we're sure it's an experience you'll remember forever. You may even see reindeer or moose on your adventure! This is the perfect tour for families, couples and individuals where you sit on a sled driven by a professional guide, so you can relax and enjoy time in nature with our friendly huskies. This is a group tour and is also available as a private tour.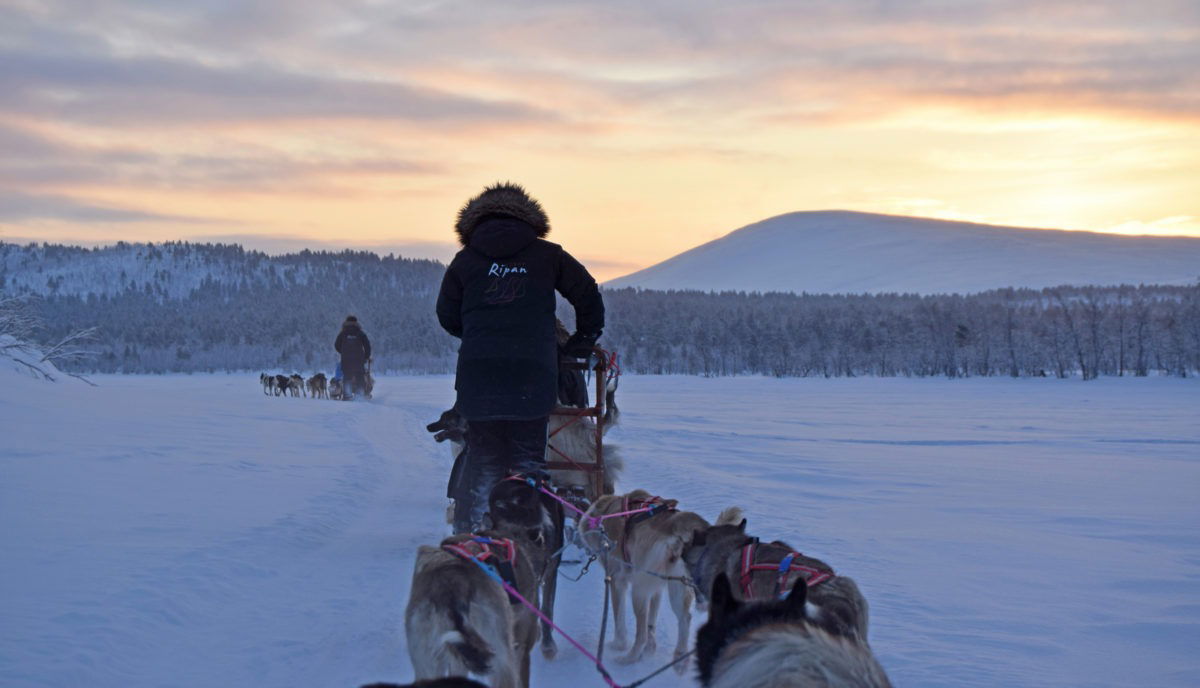 Day 4 - Kiruna to Jukkasjarvi
Kiruna to Jukkasjarvi (Icehotel) Private Transfer
Our driver will meet you at your hotel reception and drive you to Jukkasjarvi - to the Icehotel. Check-in at the Icehotel and get settled in this unique and unusual accommodation. Explore the Icehotel, a drink in the bar is quite an experience! Tonight you will stay in a warm room at the Icehotel.
Day 5 - Jukkasjarvi (Icehotel)
Meet the Reindeer Tour
For thousands of years, the Sámi people have lived in harmony with nature and their reindeer, constantly moving in search of food for the herd. After a short transfer from Icehotel, you encounter the Sámi culture at Nutti Sámi Siida, founded by the Sámi Nils Nutti. Here you get to meet and feed the curious reindeer and learn more about the Sámi lifestyle and the indigenous people of the region. Try driving a reindeer sled around a fenced 200-meter track, a wooden sled, pulled by a reindeer - a real adrenaline-kick. You then gather around the fire in a traditional Sámi tent where you are served coffee and get to taste the Sámi signature dish suovas. The tour ends with a short transfer and you will be back at Icehotel at 5 pm. The tour lasts 3 hours, and is suitable for everyone. This tour is certified with the Swedish Ecotourism Society's Label, Nature's Best Sweden.
There are many other activities on offer at the Icehotel - please discuss this with us. And remember, as all of our tours are tailor-made, you can stay extra nights to do & see more!
Day 6 - End of the tour
Jukkasjarvi to Kiruna Airport Private Transfer
Our driver will meet you at your hotel reception and drive you to Kiruna Airport. Head home with some amazing memories from Swedish Lapland.
TOUR PRICES
From 1,775 EUR per person = based on two people sharing a double/twin room in 4* hotels
All of our private tours are tailored to suit each client so the final price is dependent on your preferences, travel dates & availability. Contact us for a quote.
TOUR NOTES
Everything about this tailor-made private tour can be altered to suit you.
For groups of friends we can offer a discount, so please ask us about this.
If you want to visit a particular place or event - we can arrange this.
This tour does not include flights - you can book your own or we can do this for you.
Contact us to discuss your travel plans.
Thanks for all of your expertise in arranging our once-in-a-lifetime holiday in Sweden. It was amazing.
The dog sledding in the dark was an amazing experience and one we won't soon forget! Very cold and very dark but that did not stop us from having a fantastic time. We learned about dog sledding in general and we had just as much fun interacting with the dogs as we did chatting amiably with the members of the family in their home afterward. It felt very personal/intimate, exactly what we were looking for. Our snowshoeing experience was not just a fun trip through the breathtaking landscape but a fascinating lesson in Sweden culture, its flora and fauna, and survival skills. Our guide was very informative and tailored the trip so our kids could keep up and stay engaged. Both the hovercraft ride and the snowmobile trekking were fun and thrilling for all members of our family, racing across the frozen Baltic Sea and through the dazzling snow-covered landscape. As stunning as it was in winter, it is a place we would love to come back to during the summer. Thank you again for organizing a once-in-a-lifetime holiday for our family! We are delighted with our trip.
Christmas in Swedish Lapland, Brothers Family, Dec 21