Lithuania Highlights Private Tour
Visiting Vilnius Druskininkai Kaunas Palanga Curonian Spit Anyksciai
Lithuania Highlights Private Tour
Our private tour of Lithuania visits the main highlights of this diverse and under-rated country. Our personal service with private guides and drivers, and stops enroute away from the mainstream tourist places offers you a unique insight into Lithuania.
Tour Highlights
Customised tour of Lithuania
Exceptional personal guides & drivers
Handpicked hotels
Can start any day of the year
Day 1 - Vilnius
Private transfer from Vilnius airport to your hotel
Our driver will meet you in the arrivals hall and drive you to your hotel. It is a short transfer to your hotel in Vilnius Old Town and you will soon be checked in, unpacked and off out to explore. Welcome to Lithuania!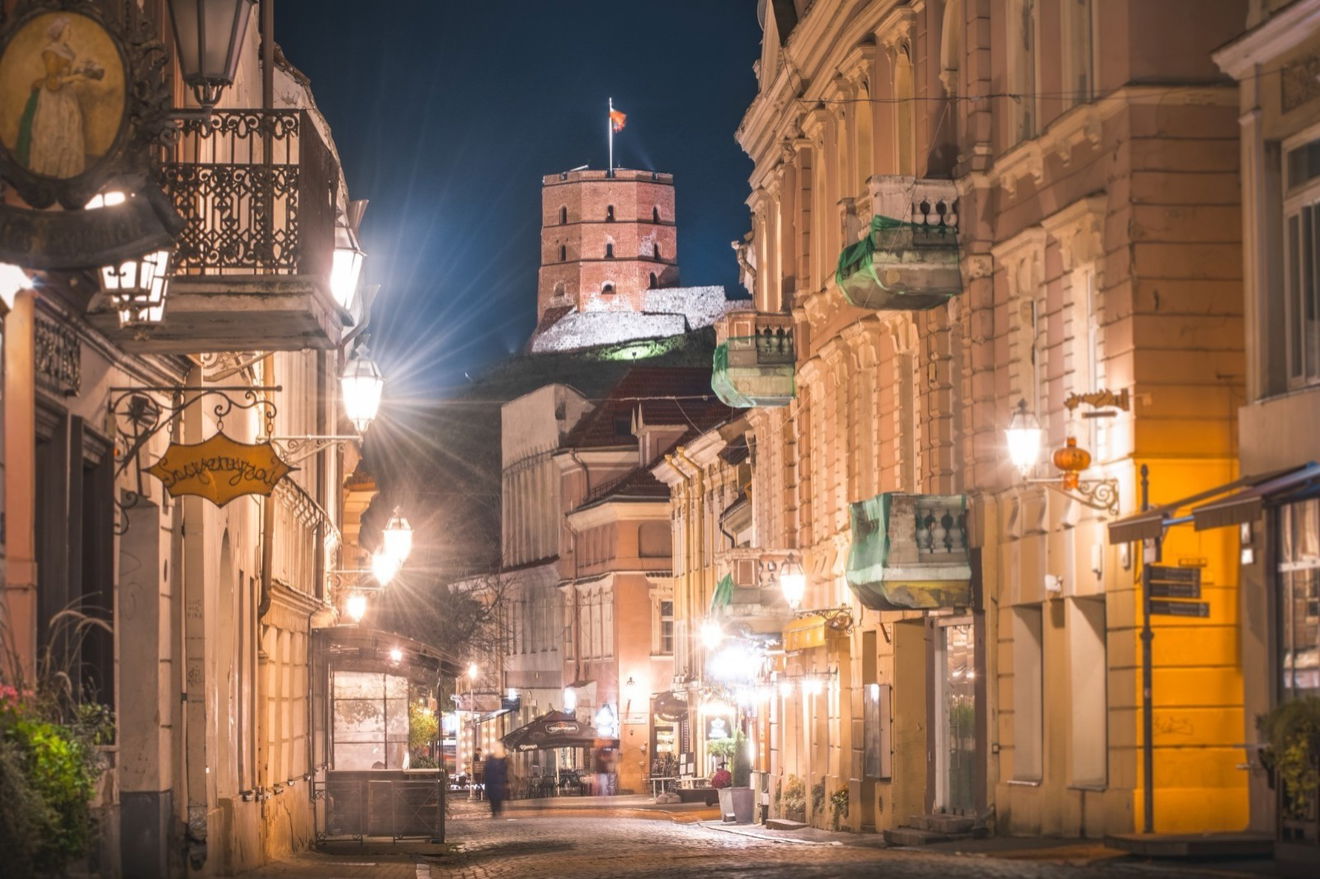 Day 2 - Vilnius
Vilnius Walking Tour with Private Guide (3 hours)
Our English speaking guide will meet you in your hotel reception and take you for a 3 hour privately guided walking tour of Vilnius. This is a great way to get your bearings on your first day and see all the major sights of the city, making deciding what to visit and see in more detail a lot easier. If you like to try the local food where the locals eat - we recommend you ask your guide to finish your tour at an authentic Lithuanian restaurant where the food is delicious and good value for money. If you don't fancy walking for 3 hours, you are very welcome to stop at one of the many cafes in the old town and chat with your guide about life in Lithuania, what to see etc and pick up some local tips.
Day 3 - Vilnius to Druskininkai
Vilnius to Druskininkai (via Trakai Castle) Private Transfer
Our driver-guide will pick you up from your hotel and drive you to Druskininkai. Along the way you will stop to visit Trakai. Here you can enjoy a visit to the iconic Trakai Castle and explore the pretty wooden houses of Trakai. Enjoy a local lunch at one of several restaurants, perhaps trying the Lithuanian version of a Cornish pasty - the kibinai! After your sightseeing, it's on to Druskininkai to your accommodation.
Day 4 - Druskininkai
Druskininkai Walking Tour with Private Guide
Your guide will meet you at your accommodation and take you for a 2 hour walking tour of Druskininkai. This is a great way to get familiarised with Druskininkai and learn about its history and what there is to do during your stay. Remember to ask where the best cafes and restaurants are!
Day 5 - Druskininkai to Kaunas
Druskininkai to Kaunas (via Grutas Park) Private Transfer
Our driver-guide will pick you up from your accommodation and drive you to Kaunas. On the way you will visit Grutas Park, a unique open-air museum of old Soviet statues, Soviet era museum, an animal park and local restaurant. Weird & wonderful and well worth a visit! If you prefer a hike in the nature, or a different place to visit please discuss this with us.
Day 6 - Kaunas
Kaunas Old Town, Ninth Fort & Pazaislis Monastery Day Trip
Today you will explore Kaunas old town and city centre, before heading out to the outskirts for two very different experiences. First of all you will visit the Ninth Fort; a former prison camp and a chilling reminder of Lithuania's recent past. After we visit the stunning Pazaislis monastery which is the largest monastery complex in Lithuania, and the most magnificent example of Italian baroque architecture in the country. A mix of emotions and impressions today, but you will feel you know Lithuania so much more than when you woke up this morning.
Day 7 - Kaunas to Palanga
Kaunas to Palanga (via the Cold War Museum) Private Transfer
Our driver-guide will pick you up from your hotel and drive you to Palanga. On they way you will visit the fascinating Cold War Museum at Plokstine (a former secret Soviet missile base).
Day 8 - Palanga
Fascinating Sights of Palanga Private Tour
Palanga is the summer capital of Lithuania. Palanga was established in the 19th century with a big English landscaped park, mansion with the amber museum inside and many decorative wooden villas set amidst the pine trees. There is a real holiday vibe during the summer months and a cosy retreat feeling in the colder seasons.
Day 9 - Palanga
Klaipeda & Curonian Spit Private Tour
This is a day trip which includes a tour of Klaipeda with our local guide, and then a tour of the stunning and unique Curonian Spit. The tour will be a mix of driving by car and walking. You will have the chance to admire beautiful sights; sandy dunes, pine trees and the Baltic sea. In Juodkrante you will visit the Hill of Witches; an open air museum based on legends and Lithuanian fairy tales. The former fishing village of Nida is a delight, so quaint with painted wooden cottages and with the highest sand dunes offering panoramic views of the Baltic sea and Curonian lagoon.
Day 10 - Palanga to Anyksciai
Palanga to Anyksciai (via Hill of Crosses) Private Transfer
Our driver-guide will pick you up from your hotel and drive you to Anyksciai. On the way you will visit the iconic Hill of Crosses near Siauliai, a unique and extremely emotive monument to Lithuania's history.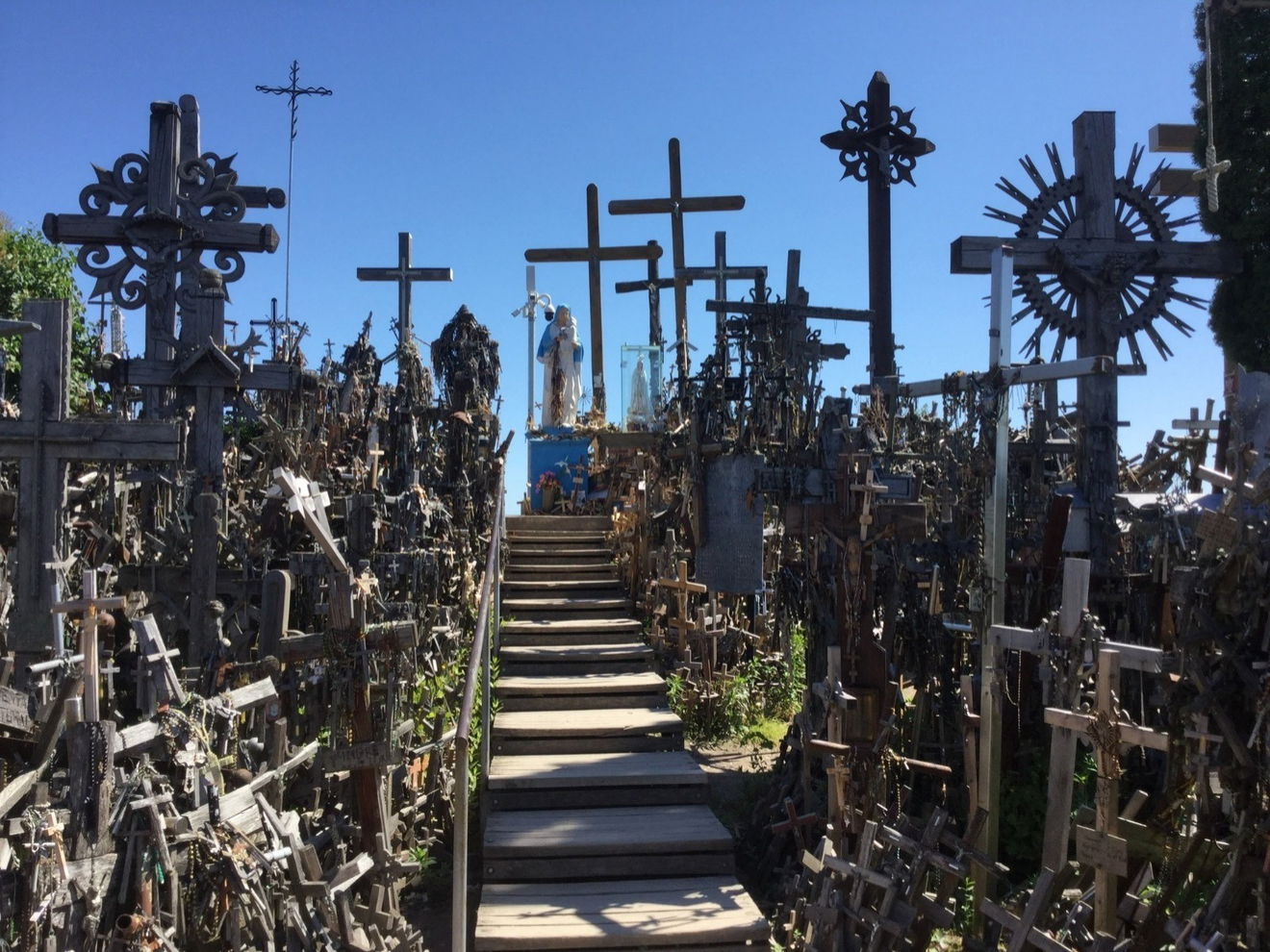 Day 11 - Anyksciai
A day exploring Anyksciai
Day at leisure to explore this pretty spa town, enjoy some spa treatments, relax, or take a bike ride to the ethnographic horse museum or ride on the narrow gauge railway. A lovely place to enjoy the Lithuanian nature. You can easily stay here for an extra night also...
Day 12 - Anyksciai to Vilnius
Anyksciai to Vilnius (via Kernave) Private Transfer
Our driver-guide will pick you up from your accommodation in Anyksciai and drive you to Vilnius. On the way you will stop to visit Kernave, the ancient capital of Lithuania. Kernave is UNESCO heritage site and special area of Lithuanian landscape characterised by ancient castle mounds and rich in Lithuanian history. The new visitor centre guides you through the local history over the centuries. Alternatively, you could stop at the Treetop Walk instead and fill your lungs with some pure Lithuanian air amidst the forest canopy. Your final evening in Lithuania is spent in Vilnius old town.
Day 13 - Departure for home
Private Transfer from your Hotel to Vilnius Airport
Our driver will pick you up from your hotel and drive you to the airport. Enjoy your memories of Lithuania!
TOUR PRICES
From 2570 EUR per person = based on two people sharing a double/twin room in 4* hotels
All of our private tours are tailored to suit each client so the final price is dependent on your preferences, travel dates & availability. Contact us for a quote.
TOUR NOTES
Everything about this tailor-made private tour can be altered to suit you.
For groups of friends we can offer a discount, so please ask us about this.
If you want to visit a particular place or event - we can arrange this.
This tour does not include flights - you can book your own or we can do this for you.
Contact us to discuss your travel plans.
Lithuania & Latvia tailor-made private tour
We feel we have found a company that cares the client gets the trip they want, and then delivers on its promises, and we will definitely be considering Baltic Holidays for future tailor-made trips. You got us back travelling the way we prefer, without compromise, something we feared may have been a casualty of the last couple of years, so that is a very big thank you.
Mr & Mrs B, tailor-made private tour of Lithuania & Latvia, September 2022