Moldova Highlights Private Tour
Visiting Chisinau Gagauzia Old Orhei Soroca Transnistria
Moldova Highlights Private Tour
The ultimate private tour of Moldova. You not only see the sights, but meet the people, and experience real life from wine tasting to home-cooked meals, local crafts to traditional cooking. In the company of our excellent local guides and drivers, you will be one of the few tourists privileged to experience unspoilt and unaffected Moldova.
Tour Highlights
Excellent private guides and drivers
Handpicked hotels
Local people & experiences
Wineries, castles, family homes, crafts & traditions!
Tailored to suit you
Day 1 - Arrival to Chisinau
Private Transfer from Chisinau Airport to your Hotel
Your guide and driver will meet you at the airport (they will have a sign with your name on it) and they will drive you to your hotel in Chisinau city centre. Welcome to Moldova!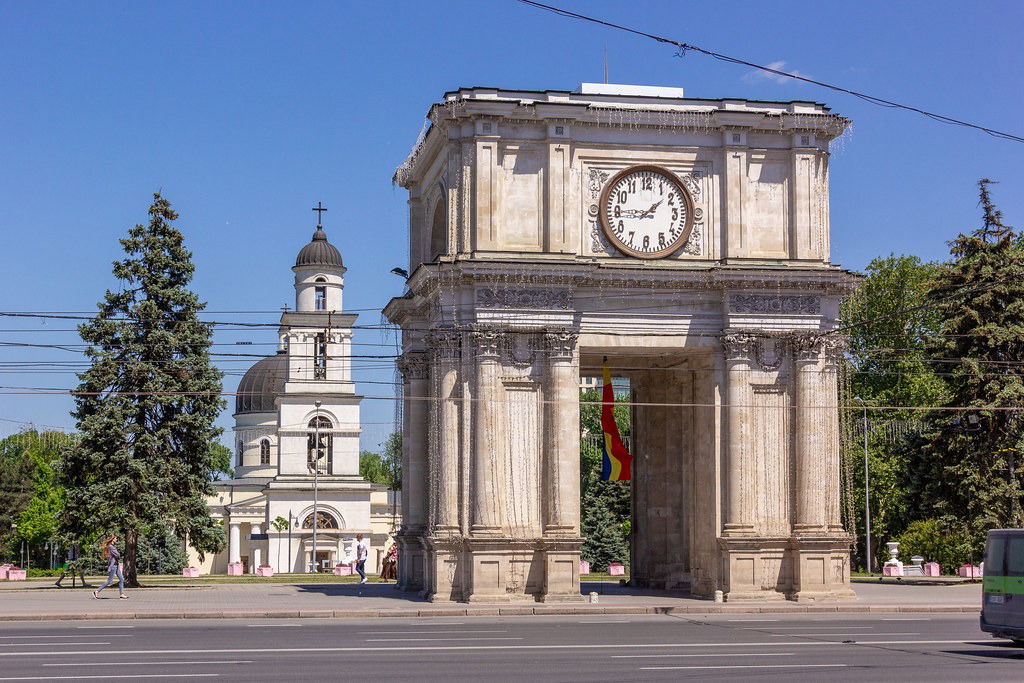 Day 2 - Chisinau
Chisinau Private Tour
After breakfast you start your city tour of Chisinau including all the major sights and daily life in the city. Free time for lunch and in the afternoon visit to the Art Museum and the National History Museum/ or Pushkin Museum/ or Military Museum. In the evening enjoy a special dinner in a local wine bar specialized in promoting quality Moldovan wines produced by small producers.
Day 3 - Gagauzia
Gagauzia Private Day Trip
Today you will visit Gagauzia, an autonomous territorial unit and part of Moldova. Gagauz people speak a Turkish dialect, but they are Christian. First, we visit the Gagauz Museum in Besalma village and enjoy the performance of a local folk group of old ladies. Later we have lunch in the last remaining kolkhoz (kibbutz) and have a meeting with the manager. The discussion will be totally free, despite the fact that Lenin will look at you in his office! The manager is really open-minded, and practically saved the village from poverty. On the way back, a short stop in Comrat, the capital of Gagauzia, then back to Chisinau.
Day 4 - Chisinau to Soroca
Chisinau to Soroca Sightseeing Day
After breakfast, check out and start driving towards Calarasi area. First stop at Frumoasa Monastery and later visit the Honey Museum from Raciula (a small family enterprise), learn about the life of bees, taste different kind of honey and other honey products. At "Parents House" Craft Centre from Palanca village, you will get to know the Moldovan traditional costumes and ethnographic customs, here we will enjoy a very special lunch, trying also the "sarmale" and "placinte" - the most traditional Moldovan dishes. You will be served with the best local wine, while the organic herbal tea, accompanied by homemade jams will surprise you with its amazing taste. On to Soroca, known for its sizable Roma minority. Free dinner and accommodation in a 3* hotel.
Day 5 - Soroca to Lalova
Soroca to Lalova Sightseeing Day
In the morning we will drive to Pocrovca to meet the old believers. This Russian community lives quite isolated, trying to keep their traditions alive and have formed quite a prosperous village. We will meet with a family, discuss about Old Russian traditions and taste several original homemade jams. Pay also a short visit to nearby Rudi Monastery, located in the middle of the forest. Later we will come back to Soroca. You will visit Soroca fortress and then drive to the Roma district of Soroca, famous for its flamboyent houses (palaces), where you will have the chance to meet a Roma family, talk to them and admire their house. Arrival in the village of Lalova and accommodation in a very special guesthouse, where we will try homemade traditional food, wine and spirits.
Day 6 - Lalova to Tiraspol
Lalova to Tiraspol (Transnistria) Sightseeing Day
After breakfast we visit Curchi Monastery, a real pearl of our religious life. Next on to Orheiul Vechi (Old Orhei) - an open-air museum which is "arguably Moldova's most fantastic sight". Here you'll see an Orthodox cave monastery expanded and modified inside the cliffs by the monks over the centuries and preserved in a functional state. After a tour of the museum, enjoy lunch with a folk program in the house of a local family in Old Orhei. In the afternoon, visit Cricova winery, which is a real underground wine city, the total length of its galleries is 120 km. After a tour and some obligatory wine-tasting, we drive to Tiraspol, capital of Transnistria.
Day 7 - Tiraspol to Vineyard
Transnistria Sightseeing & Vineyard Stay
Today you discover TIRASPOL where the old USSR is still alive and kicking. Transnistria - is a breakaway territory within the internationally recognized borders of Moldova, but still retains the look of a Communist state and it's called "the last remaining Stalinist dictatorship in Europe". After a city tour of Tiraspol, visit to Bender Fortress, then in the afternoon we arrive at Etcetera Winery. This is also your accommodation for the evening. Etcetera is one of the best wineries in Moldova, if not the best one, as in 2016 they won second prize at Decanter with their Chardonnay. Traditional dinner and wine tasting.
Day 8 - Vineyards & Chisinau
Vineyard Sightseeing Day
On the way back to Chisinau you will stop for a short tour at Castle Mimi, which is currently listed among the most beautiful architectural masterpieces in the world of wine. The story of the castle begins in 1893 when Constantin Mimi, the last governor of Bessarabia, planted the first grape vines on the place that would become legend over the years. The area of Codru, where the winery is placed, has a unique microclimate and a very good terroir, as a result having intense and aromatic wines. Arrival in Chisinau, free time and accommodation in 4* hotel in the city centre.
Day 9 - End of your Moldova tour
Transfer from your hotel to Chisinau Airport
Our driver will take you to the airport for your flight home or onward flight. If time allows, you could perhaps visit a museum on the way to the airport.
TOUR PRICES
From 2,450 EUR per person = based on two people sharing a double/twin room in 4* hotels
All of our private tours are tailored to suit each client so the final price is dependent on your preferences, travel dates & availability. Contact us for a quote.
TOUR NOTES
Everything about this tailor-made private tour can be altered to suit you.
For groups of friends we can offer a discount, so please ask us about this.
If you want to visit a particular place or event - we can arrange this.
This tour does not include flights - you can book your own or we can do this for you.
Contact us to discuss your travel plans.
The trip to Moldova was unique and truly great in every sense, an unforgettable experience!
The trip to Moldova was unique and truly great in every sense, an unforgettable experience! We had a fantastic time and enjoyed every minute. The two guides, were not only exceptionally nice and forthcoming, they went an extra mile to give us the best possible experience. We would give them 5 out 5 stars! Accommodation and restaurants were excellent. The two highlights for us were the sturgeon farm in Transnistria and the wine tasting in Chisinau. We also ordered some wine now through the guide, who will send everything in the coming days. Thanks for your quick response and for organizing this trip. I will certainly contact you again before our next trip.
Mr Pernet, Moldova Tailor-made Private Tour, October 2021