Swedish Lapland Autumn Adventure
Visiting Lulea Harads Kiruna
Swedish Lapland Autumn Adventure
A week in Swedish Lapland surrounded by autumn colours and authentic experiences. Rolling wilderness is yours to explore - by husky sled or forest hike, whilst foraging in nature's pantry or spell-bound by Sami stories. Autumn in Swedish Lapland is a grounding, sensory escape with luxurious lodgings and welcoming hosts.
Tour Highlights
Lapland lodge resorts
Treehotel
Autumn activities
Private transfers
Train travel in Swedish Lapland
Tailored to suit you
Day 1 - Arrival to Lulea
Transfer From Lulea Airport To Your Hotel
Our driver will meet you in the arrivals hall and drive you to your hotel (they will be holding a sign with your name on it). Welcome to Swedish Lapland! Accommodation at our Lapland lodge resort, get settled in and depending on your arrival time we can arrange an activity. Discuss this with us as there is much to choose from.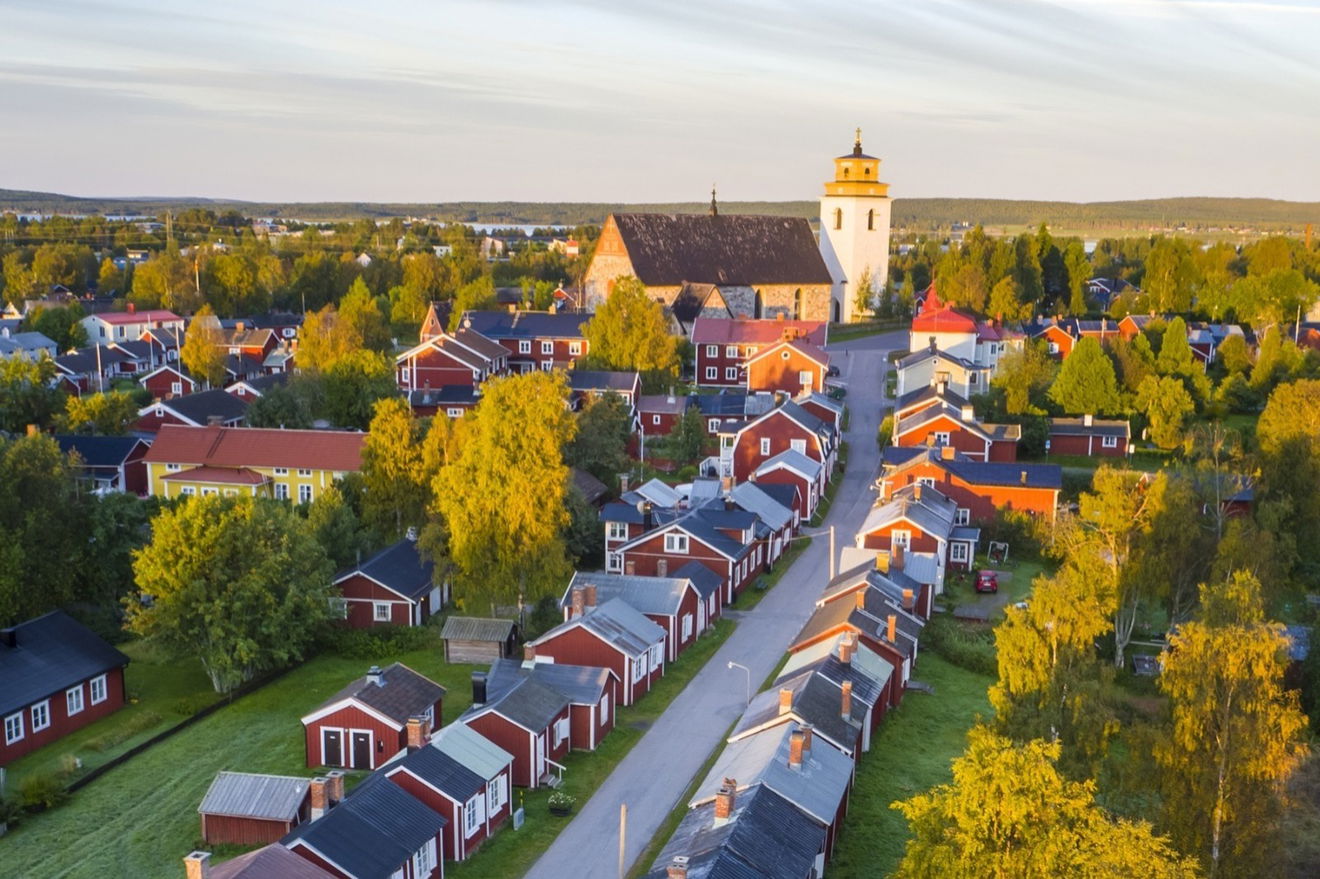 Day 2 - Lulea
Outdoor Cooking Class With Local Chef
Experience an outdoor cooking class with our chef using local ingredients. Swedish Lapland is famous for its cuisine. The raw ingredients are part of the secret and in this activity, our chef will show you how to prepare an amazing outdoor 3-course dinner using local ingredients. Of which some of them have been picked by you!
Autumn Northern Lights Walk
In the evening, at dusk we will head for a 2 hour nature walk. While walking through the Brändö forests or along the coastal beaches our experienced guide will inform you about the surrounding nature and wildlife and if conditions are right the Northern Lights may be spotted! Along the way, there will be a break during which our guests will light a fire and prepare coffee and tea.
Day 3 - Lulea to Harads
Lulea - Harads Private Transfer
Your guide & driver will pick you up from the hotel reception and drive you up to Harads for your next Lapland adventure. Enjoy some sights and stories along the way. Stay at the Treehotel in Harads for a unique experience in the Swedish Lapland nature. We will help you choose the right treehouse for you and local experiences to suit you.
Alternative Day Trips in Swedish Lapland?
This itinerary will be tailor-made for you, so please chat with us about your interests so we can suggest the best.
Day 4 - Treehotel in Harads
Lapland Foraging Tour (2.5 Hours)
Meet Eva Gunnare, local forager and culture guide. Eva has a passion for edible plants and berries and loves sharing her life through stories, flavours and songs. During this easy tour she will walk with you through the pine and birch forest to the meadows surrounding the Tree hotel, discovering her treasures from nature. You will taste and know more about the local plants as well as the traditions of usage. Then a special "fika" is served with Eva's treats she has made from her foraged treasures. Eva has lived with the reindeer herders for many years and experienced the traditions from having a life close to nature. In this tasty tour she wants to give you an understanding about the wonderful arctic everyday life.
Sami Experience With Anna
This is a really authentic Lapland experience. You will meet Anna, a young Sámi woman. Brought up with reindeer herding, and still living a traditional life, Anna has a vast amount of local knowledge to share with you. In the lávvu (tent house) you will sit around the fireplace and listen to stories and joik (traditional Sami singing).You will also be served a three course meal prepared over an open fire, with locally produced ingredients. The camp is situated just outside of Jokkmokk, close to the Arctic Circle and you will have the chance to get really close to the reindeers and even feed them.
Day 4 - Harads to Kiruna by train
Harads - Murjek Train Station Private Transfer
Our driver will meet you at your hotel reception and drive you to Murjek train station.
Train from Murjek to Kiruna
Your train tickets for travel from Murjek to Kiruna will have been pre-purchased in advance. Enjoy this scenic train ride through the Swedish Lapland landscape.
Transfer From Kiruna Train Station To Your Hotel
Our driver will meet you in the arrivals hall and drive you to your hotel (they will be holding a sign with your name on it). Welcome to Kiruna!
Day 5 - Kiruna
Aurora Tour With Dinner In Abisko
From Kiruna we drive with car into the night. Our goal is to catch the Northern lights, learn more about nature, local culture and to visit the famous Abisko. Outside the window, we see the stars and if we are lucky, a hint of green auroras in the sky. 1,5 hour later we are there, going for a three-course dinner down in the Abisko village. We talk about nature, Sami culture, northern light and local history. If the weather is good after dinner, we take a walk in the Abisko national park, to experience the landscape and look for the aurora. Our guides are educated photo guides so if you bring your camera, we help you to take photos. If there is not good weather in Abisko we start to drive back to Kiruna, and if we are lucky the sky gets clear so we can stop to see the northern lights.
Day 6 - Kiruna
Guided Tour To Icehotel / Jukkasjärvi Group Tour
Visit the Icehotel and the village of Jukkasjärvi. See the oldest church in Northernmost Sweden and have a Swedish fika at Nutti Sami siida. Our Sami guide will pick you up at Camp Ripan and drive you by minibus to Jukkasjärvi. The first stop will be at Icehotel, where you, on your own, will have time to discover the Icehotel with the famous ice art exhibition. Afterwards, your guide will take you to the oldest part of Jukkasjärvi and you will get to hear more about the area of Kiruna and about Sami people. You visit the old church, also called the "Sami church", from 1607 and have a Swedish fika at Nutti Sami siida, the Sami museum. Here you will also have the possibility, as an add-on, to visit and feed reindeers. When we are finished we go back to Kiruna.
Aurora Hunt Husky Ride Group Tour
A top-rated experience on TripAdvisor! Immerse yourself in the dark wintry nights of Lapland and escape the city lights by sitting on a big sled pulled by a team of excitable, yet friendly, Alaskan Huskies. The trail winds its way through pine and birch forest down to the famous Torne river where you can see the night sky stretching out far in front of you. If the Aurora forecast is on your side, and the sky is clear, it's possible to see the lights dancing in the sky! At our halfway point we stop at a traditional Sami-style tipi, lávvu, for a warming drink and homemade apple cake. Here you can choose to take comfort and warmth from the open fire, or you can marvel at the display of Aurora outside before we head home again. Our kennel is just 10 minutes outside of Kiruna and yet it feels like a different world far away from crowds and city light pollution. It's the perfect tour for anybody wishing to increase their chances of spotting the Northern Lights, but if the Aurora are not visible, you can still enjoy an excellent experience with our huskies who love a cuddle!
Day 7 - End of the tour
Transfer From Your Hotel To Kiruna Airport
Our driver will meet you in the hotel reception and drive you to Kiruna airport.
TOUR PRICES
Price On Request - discuss your plans with us so we can recommend the best itinerary for you
All of our private tours are tailored to suit each client so the final price is dependent on your preferences, travel dates & availability. Contact us for a quote.
TOUR NOTES
Everything about this tailor-made private tour can be altered to suit you.
For groups of friends we can offer a discount, so please ask us about this.
If you want to visit a particular place or event - we can arrange this.
This tour does not include flights - you can book your own or we can do this for you.
Contact us to discuss your travel plans.
Tailor-made tour of Swedish Lapland - Arctic Bath review
The Arctic Bath is one of the most dazzling locations/accommodations that we have ever experienced. The service was assertive without being pushy, they were always there to help when we needed someone but otherwise, it was a very intimate and tranquil stay. The bath itself was amazing, and we will never forget the evening plunge into icy waters. Just amazing. The sauna was something the whole family enjoyed. The food was as dazzling as our lodgings, the Christmas dinner was the highlight with every course thoughtfully prepared and presented. Arctic Bath is one of the most romantic spots we have ever been but it was still a fantastic spot for our 5 person family.
Christmas in Swedish Lapland, Brothers Family, Dec 21