Tallinn & Helsinki Short Break
Visiting Tallinn Helsinki
Tallinn & Helsinki Short Break
Tallinn and Helsinki make the perfect double-city break. Helsinki is uber-cool with contemporary design, while Tallinn is a quaint old town of cobbled streets and curious courtyards. Both are home to fantastic foodie and cultural experiences to keep you busy.
Tour Highlights
Our most popular short break!
Exceptional personal guides and drivers
Can start any day of the year
Choose from 4 or 5 star hotels
Tailor the itinerary to suit you - add day trips, extra nights or travel on to our other destinations
Day 1 - Arrival to Tallinn
Private transfer from Tallinn airport to your hotel
Upon arrival at the airport, our driver will meet you in the arrivals hall and drive you to your hotel (they will be holding a sign with your name on it). Welcome to Estonia!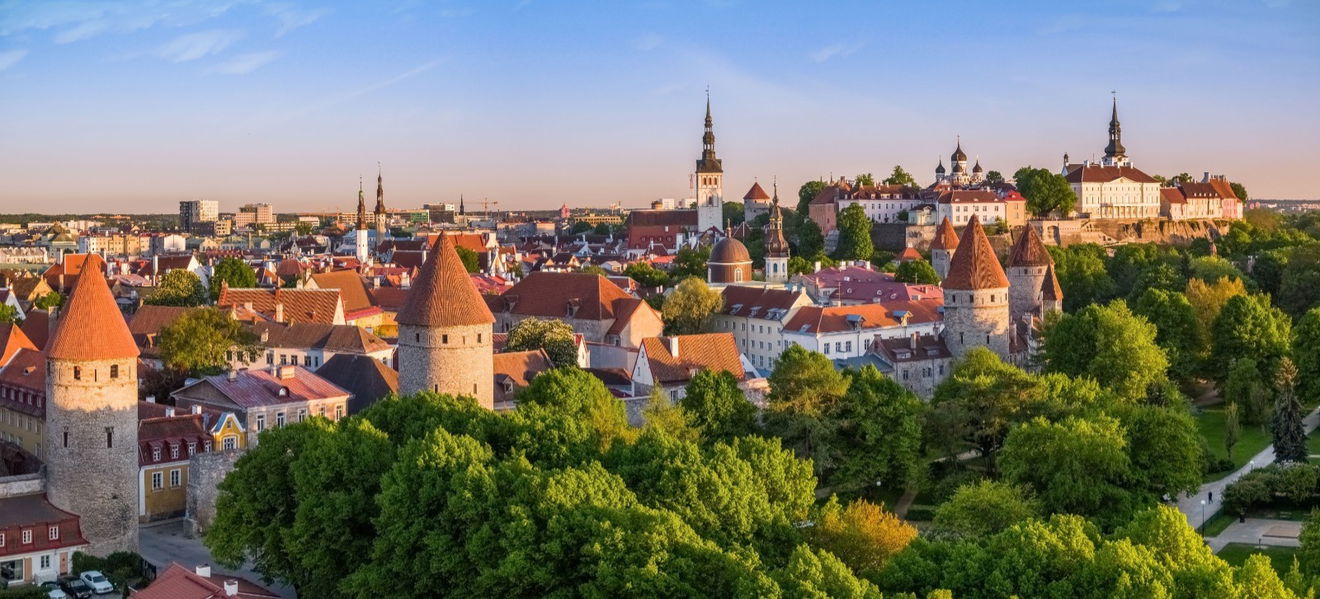 Day 2 - Tallinn
Tallinn 3 hour private walking tour
Our guide will meet you at your hotel reception and take you for a 3 hour walking tour of Tallinn old town. This is a great way to get your bearings and ask any questions about your stay in Tallinn. Maybe you want to learn some basic words, get some tips on good cafes, or learn how to use public transport - our guide will be pleased to help! The tour will cover the main sights of Old Town Tallinn including the medieval tower called Kiek in die Kok, the Parliament, Nevsky Cathedral and down to the Town Hall Square and St Catherine's Passage. Our guides are flexible and during your tour, while chatting about Tallinn you may discover new or off-the-beaten-track places that you would like to visit too. There is no script - feel free to ask about life in Tallinn, how things have changed and modern life vs Soviet occupation - enjoy learning from a local.
Day 3 - Tallinn
Lahemaa National Park Private Tour
Your guide will pick you up at your hotel at 10am and take you for a privately guided day trip to Lahemaa - one of Europe's biggest national parks. After a 1 hour drive you will visit your selection of the following places according to weather and time: Palmse manor house, Altja fisherman's village, Käsmu coastal village, Viinistu art museum, or Viru bog walking trail.
We also offer the option to have lunch at the charming 'Mer Mer' home restaurant in Lahemaa national park. Or if you like cooking, you can participate in a cookery lesson with Chef Merrit at 'Mer Mer' who specialises in Mediterranean cuisine, usually with an Estonian twist. If interested, please ask us for details.
Day 4 - Tallinn to Helsinki
Travel from Tallinn to Helsinki by ferry
Our driver will pick you up from your hotel and take you to the Tallinn ferry port. Your tickets will be pre-purchased according to your preferred departure time and travel class. Visit the restaurants, shops, or sit on the deck in the fresh air. (It is possible to upgrade your tickets to a class that includes pre-booked seats and a meal with access to a lounge - please ask us for details). Upon arrival in Helsinki our driver will meet you in the arrivals hall of Helsinki ferry terminal and drive you to your hotel (they will be holding a sign with your name on it). Welcome to Finland!
Day 5 - Helsinki
Helsinki Walking City Tour (2 hours)
Our local Helsinki guide will meet you at your hotel and take you for a 2 hour walking tour of Helsinki - the perfect way to get your bearings. The guide will go at your pace and if there is anything in particular you would like to see or do - please say! Our guide will be on hand to offer advice on what to see, how to travel around, and to recommend some of their favourite cafes and restaurants too. Should you wish to take any independent tours in the afternoon, our guide can advise on how to do this, eg taking the ferry from Helsinki centre to Suomenlinna fortress, or a trip out to a public sauna (great fun!)
Day 6 - Helsinki
Half-Day Group Tour to Porvoo
Join this guided half-day group tour (4-hour) trip from Helsinki to the idyllic town of Porvoo with its well-preserved wooden houses and picturesque cobble-stoned streets. The city's town plan is from the Middle Ages, the low small houses, picturesque yards and narrow streets form a historically unique wooden town milieu. The symbols of Porvoo - the red warehouses on the riverbanks - tell the story of seafaring and trading.
(We also have other day trip options, depending on your interests. We have some fantastic tours to nearby Nuuksio national park, either hiking, biking, canoeing or paddle-boarding! Please ask for details.)
Day 7 - End of the tour
Private transfer from your hotel to Helsinki airport
Our driver will pick you up from your hotel and drive you to the airport, we hope you have some fabulous memories of Helsinki & Tallinn!
TOUR PRICES
From 970 EUR per person = based on two people sharing a double/twin room in 4* hotels
All of our private tours are tailored to suit each client so the final price is dependent on your preferences, travel dates & availability. Contact us for a quote.
TOUR NOTES
Everything about this tailor-made private tour can be altered to suit you.
For groups of friends we can offer a discount, so please ask us about this.
If you want to visit a particular place or event - we can arrange this.
This tour does not include flights - you can book your own or we can do this for you.
Contact us to discuss your travel plans.
Every one of our drivers and guides exceeded our expectations.
We appreciated all your good advice on the itinerary. It was a great idea that we go to St. Petersburg via Helsinki (a very cool city!)...the ferry and high-speed train were efficient and quite comfortable. The choice of hotels suited us perfectly...thanks for placing us so centrally in each city. The hotel in Tallinn was the most luxurious, but even at the more modest places in Vilnius and Riga, the location and the warm and helpful hotel staff made our stays delightful. And the manor house was remarkable. Every one of our drivers and guides exceeded our expectations. The walking tours were informative, meaningful, and great fun.
Bespoke Baltic Capitals plus Helsinki & St Petersburg, Ms Emory, September 2019
Baltic Christmas Markets - Vilnius, Riga & Tallinn
My daughter Iona and I have to say how very much we enjoyed the trip - everything seemed to have gone very smoothly. All the three guides were fantastic too. We loved all the walks in each cities - simply perfect - pace, time and seeing things! We have recommended this trip and the company to all our family and friends.
Padden-Duncan Family, Baltic Christmas Markets Tour, December 2018
Baltic Capitals & Coast Group Tour + birdwatching tour
I just wanted to drop you a line with some positive feedback on the birdwatching day that you organised for us as part of our recent Baltic holiday. I don't know if you have dealt with the guide before, but she was absolutely first class. Her knowledge is excellent, her English is really good, and she had clearly gone to a great deal of effort to ensure that we had a good day, even to the point of scoping out the area the previous day to see what birds could be found, and bringing a telescope as well as spare binoculars in case we didn't have any. In terms of the holiday overall, we had a great time. The guides were excellent, the hotels were really good, the itinerary was very interesting, and we were lucky with the weather too.
Jespersen, Baltic Capitals & Coast Group Tour, May 2023