Vilnius & Kaunas Short Break
Visiting Vilnius Kaunas
Vilnius & Kaunas Short Break
Experience two vibrant cultural cities in Lithuania - Vilnius & Kaunas. Only an hour between them but with so much to see along the way or on a private day trip with our acclaimed local guides. We will design an itinerary to fit your flights, time, budget and interests. Welcome to Lithuania!
Tour Highlights
Vilnius & Kaunas
Private walking tours
Sightseeing transfers and day trips
Works well with Vilnius or Kaunas flights
Available all year round
Tailor the tour to suit you
Day 1 - Arrival to Vilnius
Transfer From Vilnius Airport To Your Hotel
Our driver will meet you in the arrivals hall and drive you to your hotel (they will be holding a sign with your name on it). It is a short drive to your hotel in Vilnius old town and you will soon be strolling the cobbled streets of old town or relaxing in a cafe or restaurant. Welcome to Vilnius!
Day 2 - Vilnius
Vilnius Walking Tour With Private Guide (3 Hours)
Our English-speaking guide will meet you in your hotel reception and take you for a 3 hour privately guided walking tour of Vilnius. This is a great way to get your bearings on your first day and see all the major sights of the city. If you like to try the local food where the locals eat, we recommend you ask your guide to finish your tour at an authentic Lithuanian restaurant where the food is delicious and good value for money. If you don't fancy walking for 3 hours, you are very welcome to stop at one of the many cafes in the old town and chat with your guide about life in Lithuania, what to see etc and pick up some local tips. This 'stopping time' is part of your 3 hours so make the most of their company and local knowledge!
Day 3 - Vilnius
Free time or a day out of town
Today you can easily fill the day at leisure exploring the city and visiting museums, galleries and sights that interest you. Alternatively, we can take you out of town for a different experience of Lithuania. For example, participate in a crafts workshop, visit a Soviet theme park, or hike in a national park...
Day 4 - Vilnius to Kaunas
Vilnius To Kaunas (Via Rumsiskes & Trakai) Private Transfer
Our driver-guide will pick you up from your hotel and drive you to Kaunas. On the way you will visit Rumsiskes open-air ethnographic museum. Rumsiskes is a charming collection of traditional houses and farmsteads laid out in picturesque countryside. During peak season you can watch local artisans at work, and many artefacts are on display. You will also have a stop in Trakai and have a guided tour of Trakai castle.
Day 5 - Kaunas
Kaunas Old Town Walking Tour (2 Hours)
You will be met in the reception area of your hotel by your English speaking guide for your privately guided 2 hour walking tour of Kaunas Old Town. Cobbled streets, beautiful buildings, all with a rich history and stories to tell. Chat about life in Lithuania, today and and days-gone-by, and be sure to let us know if you have particular interests so we can recommend where to visit during your stay, and of course the best cafes, bars, and restaurants for you to try! Private Guide* Accommodation: Kaunas Hotel • Single Room - Standard + Breakfast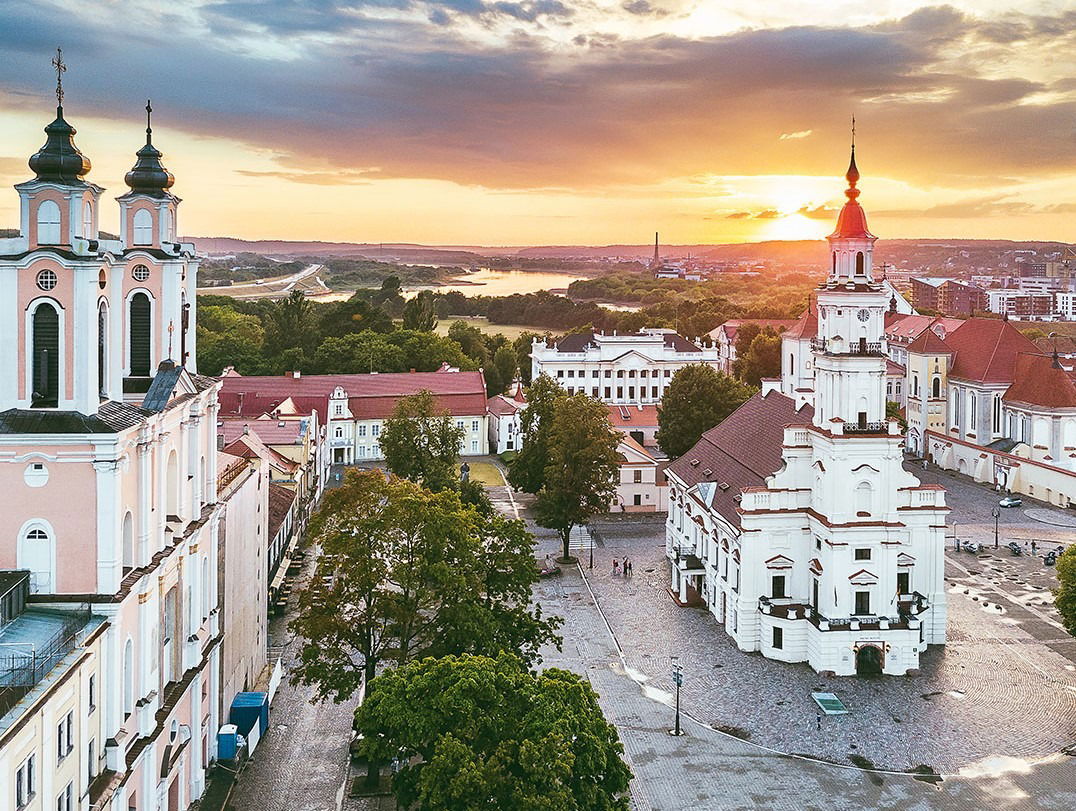 Day 6 - Kaunas
Free time or take a trip out of town
As in Vilnius, this day can be a free day where you explore the city independently (there is plenty to see and do), or we can arrange a day trip out of town. Perhaps to the Ninth Fort former prison camp for a harsh history lesson, or to a spa town, or a rural day out exploring villages and nature...
Day 7 - End of the tour
Transfer From Your Hotel To Kaunas Airport
Transfer to Kaunas Airport for your flight home. Our driver will pick you up from your hotel and drive you to the airport. Alternatively, it is only a one-hour drive back to Vilnius so you can fly home from Vilnius too.
TOUR PRICES
From 774 EUR per person = based on two people sharing a double/twin room in 4* hotels
All of our private tours are tailored to suit each client so the final price is dependent on your preferences, travel dates & availability. Contact us for a quote.
TOUR NOTES
Everything about this tailor-made private tour can be altered to suit you.
For groups of friends we can offer a discount, so please ask us about this.
If you want to visit a particular place or event - we can arrange this.
This tour does not include flights - you can book your own or we can do this for you.
Contact us to discuss your travel plans.
A great holiday in Lithuania organised by Baltic Holidays
Just returned home from a great holiday in Lithuania organised by Baltic Holidays. From the moment we arrived, everything ran like clockwork. Excellent guiding, comfortable hotels and a good balance between organised outings and self guided walking. Lithuania is a fantastic destination and I would encourage people to visit - whatever your interests - history, art, music, trekking....; there will be something there for you.
Jill & Katie, Lithuania Winter Break, February 2023